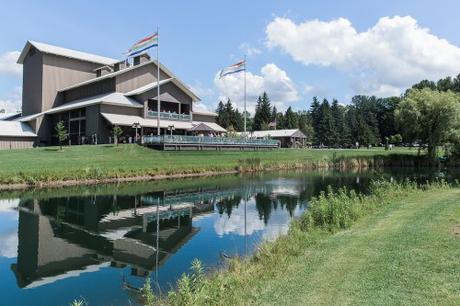 The Glimmerglass Festival Alice Busch Opera Theater. Designed by Hugh Hardy, the theater features unique sliding walls that open prior to performances and at intermission. Photo: Karli Cadel/The Glimmerglass Festival.
Tucked away in a corner of verdant Otsego County along Lake Otsego, is a vibrant summer-only homage to opera and music called the Glimmerglass Festival. With each year I return, I try new and different things and take part in more of what Glimmerglass has to offer. For people like me who love musical theater and opera, it is "my corner of the sky."
Yesterday afternoon, I had the privilege of taking in one of their ancillary events, and it was a privilege, believe me The event was billed "An afternoon with STEPHEN SCHWARTZ." Schwartz is the award-winning composer-lyricist of Godspell, Pippin, Wicked, and the full-length contemporary opera Séance on a Wet Afternoon. For about an hour, he held court on the Main Stage of the Alice Busch Opera Theater, sharing introductions to his songs, mostly performed by members of the Young Artists Program.
Godspell and Pippin both hold special places in my heart. I performed in both and have directed a junior version of Godspell as an educator. They also presented material I hadn't seen performed before from The Baker's Wife and The Children of Eden.
Schwartz talked about how musical and theater and opera used to be parallel tracks for separate trains–my metaphor, not his. But how many young artists today can crossover to musical theater style singing. Case in point. Leah Crocetto, whom I last saw in Opera Philadelphia's Don Carlo. She is a wonderfully gifted soprano, who belted out several terrifice musical theater numbers during this performance. Yes, this woman has a chest range, and she's not afraid to use it. (Believe me, I appreciate that chest range isn't the dirty word it used to be. I mean, no serious student of vocal performance was encouraged to sing in their chest range.)
The Young Artists presented two numbers from Séance on a Wet Afternoon, an opera I reviewed for Bachtrack in 2011, which I absolutely adored.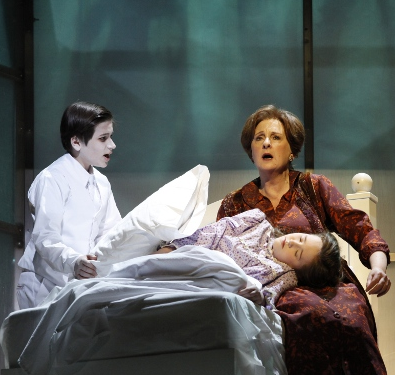 Séance on a Wet Afternoon is a two-act contemporary opera with music and libretto by American composer Stephen Schwartz
Even considering the numbers from Séance, the most enthralling portion of the program was when Schwartz sat down at the piano and sang a ballad from Wicked. This was a lifetime opportunity for the founder of Operatoonity.com, and I couldn't stop tears from streaming down my face. Simply, a bucket list experience.
Tomorrow, I am seeing Porgy and Bess, featuring a very talented bass-baritone I first saw perform at the Academy of Vocal Arts in Philadelphia, where he was a student: Musa Ngqungwana.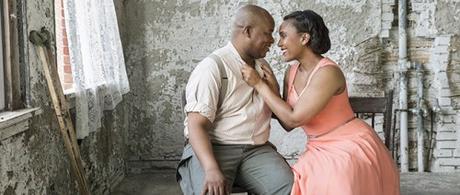 Porgy will be sung by Musa Ngqungwana and Bess by Talise Trevigne | photo by Karli Cadel
I plan to attend the Porgy show talk which takes place an hour before curtain, and I've even roped my daughter and her boyfriend into attending as well. Monday, its The Seige of Calais followed by Stars Night Out in the Pavilion, a thoroughly enjoyable little cabaret, when the festival stars let their hair down and sing their favorite pieces–not necessarily arias either.
The beautiful grounds, the picnicking and outdoor cafe seating options, the opportunity to enjoy a glass of wine or beer at the festival, the acoustics of the theater in which every seat is a great seat are all reasons that keep bringing me back to Glimmerglass, year after year.
Glimmerglass Festival offers more than 40 performances of four operas each July and August. Productions have been presented in repertory since 1990.
You can fangirl/boy Glimmerglass on Facebook, follow them on Twitter at @GOpera, and read their blog. For more about the Glimmerglass season, click here.
Here's a great little video on what it takes to put the Glimmerglass Festival together: