Umm, I don't know if this guy is for real or just trying to make a point. Who cares.  LOL
———————————————————————————————–
Florida man demands right to wed computer
Man sues for the right to marry his porn-laden Macbook, arguing that if gays are allowed to marry then so should other sexual minorities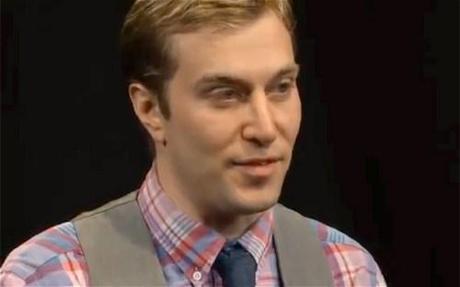 Chris Sevier argues that if gays should be allowed to marry, then so should other sexual minorities Photo: FOX
By David Millward, US Correspondent
5:25PM BST 07 May 2014
Chris Sevier, a man from Florida, believes he should be allowed to wed his Macbook.
Mr Sevier argues that if gays should be allowed to marry, then so should other sexual minorities.
Mr Sevier states he has fallen in love with a pornography laden computer.
"Over time, I began preferring sex with my computer over sex with real women," he told a court in Florida.
This appears to be not a passing holiday romance, but a lifelong commitment.
If gays have the right to "marry their object of sexual desire, even if they lack corresponding sexual parts, then I should have the right to marry my preferred sexual object", he said.
Mr Sevier, who describes himself as "a former judge advocate and combat veteran", is persistent, filing claims not only in Florida but also Utah.
The Utah claim, which in reality is an attempt to throw a spanner in the works of a gay marriage case in the federal court, runs to 50 pages.
Mr Sevier argues that allowing gays to marry but denying him the same right amounts to discrimination.
"We are in different classes of sexual orientation," he told the court in Utah.
If gays feel as is they are second class citizens, Mr Sevier argues then "those of us in the real minority, who want to marry machines and animals, certainly feel like third class citizens".
Mr Sevier apparently sought a marriage license for himself and his "machine spouse", but for some reason was denied.
"The exclusion from marriage to a machine denies myself a dignity and status of immense import," he argues in his motion.
Mr Sevier cites legal precedents around the world – including a case where a woman married a dolphin and a Chinese man wed a cardboard cutout of himself.
"Allowing my marriage to go forward will not adversely impact the fertility rate any more or less than a same sex couples.
"If there is a risk that is posed to traditional marriage and children, both man-man couples and man-machine couples pose it equally.
"In considering the equal protection clause, there are no fewer policy reasons for preventing man-machine couples from marrying than there are for same-sex couples."
Unfortunately for Mr Sevier, the courts in Florida and Utah, found his legal arguments unpersuasive.
But with the gay marriage being tested in courts across the country, more motions are inevitable.
~Steve~ 
http://www.telegraph.co.uk/news/worldnews/northamerica/usa/10814098/marriage-gay-marriage-mac-wedding-computer-Florida-Utah.html