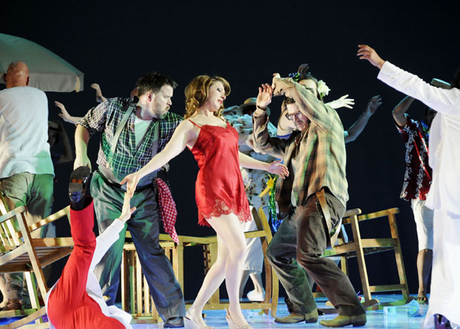 Dancing in the storm: denial as utopia in Mahagonny
Photo © Lena Obst/Staatstheater Wiesbaden
On Thursday, I took myself to the Staatstheater Wiesbaden's current run of the Weill/Brecht
Mahagonny
. The house was far from full, which is a shame; the orchestra and singers gave  engaged performances in a smart, effective production by intendant Manfred Beilharz. The production supported the sly score and the quick succession of dramatic episodes. Use of space was generally good, although the apron on far side of the pit, whence newcomers to Mahagonny come and where some significant apostrophizing of the audience takes place, was invisible from most of the top balcony. Bernd Holzapfel's sets were minimalistic in the first half, allowing the broken-down car of the fugitives and, later, the green moon of Alabama to dominate the empty space where it is impossible to go forward, and the way of retreat is cut off. I liked the homage to the aesthetic of the early 30s in the art deco skyscrapers and the liner on which Jimmy seeks to leave. The glittering city of Mahagonny as it appears in the second half is dominated by a building which could be a stock exchange, a courthouse, a seat of government, or all three; its architecture is the neo-classicism favored by all expanding powers of the 20th century, and its motto is simply ¥€$. A central platform served as dining table, brothel, and boxing ring, and even as courtroom. Zsolt Hamar led the orchestra in possibly the best performance I've heard from them: lively, lascivious, insinuating, and attaining real gravitas and poignancy at crucial moments. There was dark humor in abundance, to be sure, but we were never allowed to pretend that this was not a devastatingly relevant parable, as powerful in the early 21st century as a cry of outrage and protest as it was as Cassandra-like prophecy in 1930.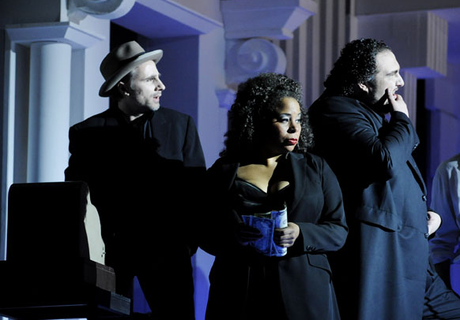 Making society a business: Widow Begbick and associates
Photo © Lena Obst/Staatstheater Wiesbaden
An irony of Weill's piece is that in this tragedy of rampant individualism ("Wenn einer tritt, dann bin ich es!"), the mutual support of the singers is crucial. The ensemble work of Wiesbaden's cast was well-honed and emotionally powerful. The contributions of everyone on stage were praiseworthy (with the male chorus worth singling out): there no purposeless milling, but well-timed, musically on-point choreography. Widow Begbick's henchmen were well-characterized, with Kiril Manolov a fine Moses, and Erik Biegel a delight as Fatty. As Leocadia herself, 
Andrea Baker
 was sensual, scheming, and always vocally exciting. Her tone could sound occasionally unfocused, but with a rich, ample top and great chest notes, I was not disposed to quibble (I was unsurprised to find Amneris and Ortrud in her repertoire.) She had an audible American accent, but exemplary diction, supporting her unflinching fierceness. Dennis Wilgenhof was sonorous and supple of voice as Alaskawolf Joe, while Brett Carter made a disquietingly ambiguous figure as Sparbüchsenbill. Emma Pearson, as Jenny, sang with impressive emotional range and vocal control, to heartbreaking effect. Pearson was charismatic in the role of this woman who has learned how fatal it is, in Mahagonny, to show vulnerability. In the role of Jimmy Mahoney, 
Daniel Brenna
started out a bit dry, I thought, but perhaps this was restraint. He was was more and more lively and convincing as Jimmy's indignation and disgust increased. Brenna had really nice chemistry with Jenny, as well; their minor-key duet which serves both as an ode to love and an elegy for its passing was deeply touching. His last scene (for which he had perhaps been saving himself) was of uncanny power, chilling in its outrage and despair. The closing chorus emerged as the cry of those who have given up struggling against a system that has already crushed them; the cacophony of protest signs was a silent counterpoint, a dark commentary on a
vox populi
silenced by the powers that be. But the women who have been exploited and objectified throughout bring in a sign reading simply "Occupy"; whether it is a slogan like any other is left open by the production. But to the surprise of all on stage, as they sing together, one of the pillars of coin supporting Mahagonny's resounding "¥€$" suddenly crumbles.