Overview: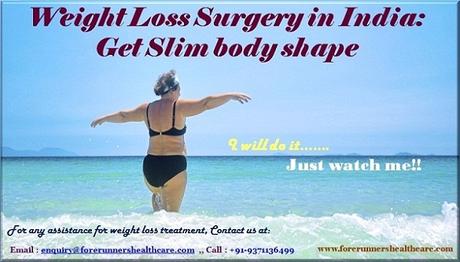 No one can Understand the feeling of an obese person; in this glamorous world where everyone wants to look slim and happening. In this face of time an obese person would feel very lonely and out of the world. They try to take out ways to hide themselves, where they should come out of their shoes and fight with their weakness, instead they sit back home and make themselves more weak failing to fight with their disease. Yes, obesity is not a disease but excessive weight gives rise to many co-morbid conditions that makes you a box full of diseases. First there were no treatment to obesity but now there is treatment to every diseases; the only thing is you need to help yourself.
Types of Weight Loss Surgeries:
There are many different ways to perform a weight loss surgery:
Laparoscopic Adjustable Gastric Banding
Duodenal Switch with Billiopancreatic Diversion
How to Perform:
As explained above every surgery has its own ways and procedure to perform. Following are brief description:
Gastric Bypass: This procedure is performed to divide the stomach into two pouch small upper and a little larger lower pouch and after that the small intestine is connected to both by rearranging it.
Laparoscopic Adjustable Gastric Banding: This procedure requires a small incision in the upper abdomen area. This surgery involves the use of adjustable band around the top part of the stomach; which creates a small stomach pouch. After this surgery the intake of food goes down which help to reduce weight.
Sleeve Gastrectomy: This surgical procedure removes 75 percent of the stomach and leaves a sleeve like structure to pass in the food material. This also lessens the intake of food resulting in heavy weight loss. It is considered as a major surgery.
Duodenal Switch with Billiopancreatic Diversion: This procedure is also known as duodenal switch. It is a major procedure which involves excision and so it is partially reversible.
Click here :

Special Packages of Weight Loss Surgery in India
Who is the candidate for Weight Loss Surgery: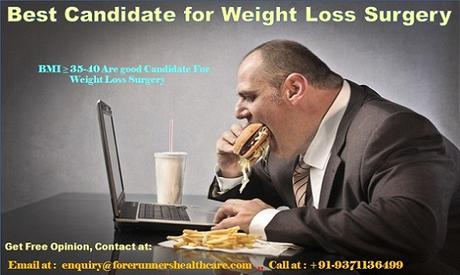 The best candidates for a weight loss surgery are those whose BMI ≥ 35-40 or more than 100 pounds overweight. And the other condition is when the person shows more than one co-morbidity example: type II diabetes, sleep apnea, hypertension, and other disorders related to respiration, liver disease, osteoarthritis etc. These are the patients who should undergo weight loss surgery in-order to stop their growing co-morbid conditions.  
What Are the Success Rate:
Like every surgery this surgery also has its own merits and de-merits; with the help of best surgeons in India we prove to deliver more than 80-85 percent of successful bariatric surgery. With an ease every patient can trust their weight loss surgery in the hands of top surgeons in India.
Recovery after Surgery:
Every surgery has its different recovery time a major surgery like gastric bypass and sleeve gastrectomy takes at least 6 to 8 months to recover mean while the patient starts losing up the weight; whereas healing of the scars would take at least 8 months. This is about the recovery; and the surgery like gastric balloon and gastric banding will take one or two months.
What are the risk:
With the help of best surgeons in India none of the surgery would go wrong; but if we talk about risk in weight loss surgery then we can say; when it goes wrong or if it does not suits the patient and the incised area become peptic. Like every surgery this may also have its own negative and positive experience; but if the surgery is planned under the best supervision hands then one need not to give a second taught even.
Preparation Before getting Surgery:
One should stop drinking and smoking if they are habitual of heavy drinking and smoking. The other thing is exercise and diet; if you are on exercises which are heavy and not mend for the person who would undergo surgery should be stopped and if you are on a heavy diet then you should take a proper healthy diet rich in fiber and less in carbohydrates. Intake of much rich food and bakery items should be stopped. These are the small things that have to be taken care off before the surgery to make the surgery successful with no complications and stress.
Weight Loss Surgery in India at Affordable Cost: 
Any type of weight loss surgery in India is available at affordable cost with the help of forerunners health care consultants. The hospitals in India are highly equipped and offer the best medical service at affordable cost. The patient would not have any problem with the medical panel and the team that would serve them. The best thing is that the patient can plan the surgery without any wait which is unlike other countries.
Why Forerunners Healthcare Consultants:
Forerunners health care consultants are the most trusted partners of all the health care centers in India. One should count on them because they would help the patient with the following things:
Medical visa.
Airport pick and drop.
Local travels.
Meals and accommodations etc.
Related Posts:
Tags :
Weight loss surgery in India, Cost of weight loss surgery in India, Contact for special package of weight loss surgery in India, Bariatric surgery cost in Delhi, Weight loss surgery cost in Mumbai hospitals, Best laparoscopic bariatric surgeon in India, Dr. Randeep Wadhawan Bariatric Surgeon Delhi, Email Dr. Muffazal Lakdawala, Dr. Ramen Goel, Obesity surgery cost in India, Top Obesity Surgeon in Mumbai, Free Opinion for Bariatric Surgery contact us, weight loss surgery New Zealand Patient success story, Obesity Surgery patient review,