NOTE: I spend my Wednesdays Unplugged from appointments. It's my day to stay home, enjoy cooking and welcome our kids and grandkids for dinner in the evening. We end our meal with quotes from the Norwegian 'Quote Cup' passed on to me from my grandmother. I share a quote and a recipe here each week, and sometimes some photos of family fun. I love trying new recipes...and love getting recipes you would like to share!
"Your most important sale in life is to sell yourself to yourself." ~ Maxwell Maltz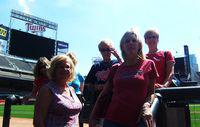 Did a tour of Target Field with Breakfast Club friends last week... fun getting on the field and in the dugout as well as into all the various club rooms, it's really an impressive stadium. State Fair starts this week... our son's family will be there on opening day tomorrow. After a crazy couple weeks, hopefully these last couple weeks of summer will be more relaxed.
RECIPE OF THE WEEK
Pork tenderloin is one of my favorite cuts of meat but I had never grilled it before. This actually combines three recipes... a marinade from Alton Brown, the 7-6-5 method of grilling from finecooking.com, and Jezebel sauce from saveur.com which is also good with cream cheese and crackers.
GRILLED PORK TENDERLOIN with JEZEBEL SAUCE
MARINADE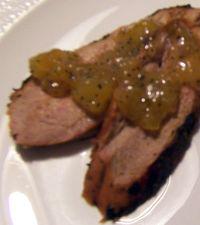 1-2 whole pork tenderloins (approx 1-2 pounds)
1 lime, zest finely grated
1/2 cup freshly squeezed lime juice
1/4 cup honey
1 1/2 teaspoons kosher salt
1/2 teaspoon garlic powder
1 chipotle chile pepper in adobo sauce
1 teaspoon vegetable oil
Trim pork tenderloin and combine rest of ingredients. Place in resealable plastic bag and move around to combine and coat pork. Remove as much air from the bag as possible and put in a container to catch any leaks. Marinate in the refrigerator 6-24 hours, rotating bag occasionally. Remove from refrigerator and let sit at room temperature while you prepare the grill. NOTE: if you use only 1 tenderloin, you can marinate in 1/2 the marinade mixture and reserve the other half to top pork when serving
7-6-5 METHOD FOR GRILLING PORK
This method, which refers to timing, was developed by Pamela Anderson, which she claims is foolproof... it worked for us!  Preheat the grill for 10 minutes on high heat for 10 minutes. Cook pork for 7 minutes on the first side to sear and seal in juices; keep the grill covered.  Next, turn the pork and grill for 6 minutes on the second side (it has already started to cook so it doesn't need as much time). Finally, turn off the heat, close the lid and let it sit for 5 minutes as the residual heat finishes the cooking. Internal temperature should register 145-150 degrees F.
Slice meat and serve... with Jezebel sauce, if desired. This is a big recipe that comes from the Junior League of Jackson, Mississippi... good for a crowd.
JEZEBEL SAUCE - enough for four pork tenderloins
1 1/2 cups olive oil
3/4 cup soy sauce
1/2 cup wine vinegar
1/3 cup fresh lemon juice
1/4 cup worcestershire sauce
Leaves of 6 sprigs of parsley, finely chopped
2 tablespoons dry mustard
1 tablespoon freshly cracked black pepper
2 cloves garlic, peeled and minced
Sharlene Hensrud, RE/MAX Results - Email - HomesMSP.com