"Where does the white go when the snow melts?"
NOTE: I spend my Wednesdays Unplugged from appointments. It's my day to stay home, enjoy cooking and welcome our kids and grandkids for dinner in the evening. We end our meal with quotes from the Norwegian 'Quote Cup' passed on to me from my grandmother. I share a quote and a recipe here each week, and sometimes some photos of family fun. I love trying new recipes...and love getting recipes you would like to share!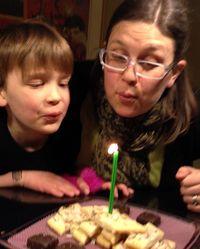 Today is the vernal equanox, officially the start of spring... but it looks a feels more like January today. It is our coldest first day of spring since 1965 and we still have tons of snow! At this rate we are likely to have a white Easter. Hmmm... I was just remembering an August storm in the 1960s in ND when the snow drifted up against the garage door, covering it and piling up so we could walk onto the roof!  Last week we celebrated our daughter-in-law's birthday... her 'cake' was Scandianvian Almond Bars...
RECIPE OF THE WEEK
...and she asked for Croque Monsieur for the main course. I have made them before, that's why she thought to ask for them... I don't remember how they turned out last time, but these were awesome! This recipe comes from Ina Garten's Barefoot in Paris. I used a thin sliced 'square' sandwich loaf for the bread and folded a slice of ham in half, then in half again for each sandwich... it was perfect. 
CROQUE MONSIEUR - hot ham and cheese
2 tablespoons unsalted butter
3 tablespoons all-purpose flour
2 cups hot milk
1 teaspoon kosher salt
1/2 teaspoon freshly ground black pepper
1/8 teaspoon nutmeg
12 onces Gruyere, grated (5 cups)
1/2 cup freshly grated Parmesan cheese
16 slices white sandwich bread, crusts removed
Dijon mustard, optional
8 ounces baked Virginia ham, sliced but not paper thin
Preheat the oven to 400 degrees F. Melt butter over low heat in a small saucepan and add the flour all at once, stirring with a wooden spoon for 2 minutes. Slowly pour the hot milk into the butter-flour mixture and cook, whisking constantly, until the sauce is thickened. Off the heat add the salt, pepper, nutmeg, 1/2 cup grated Gruyere, and the Parmesan and set aside.
To toast the bread, place the slices on 2 baking sheets and bake for 5 minutes. Turn each slice and bake for another 2 minutes, until toasted.
Lightly brush half the toasted breads with mustard, add a slice of ham (folded into quarters) to each, sprinkle with half the remaining Gruyere. Top with another piece of the toasted bread. Slather the tops with the cheese sauce, sprinkle with the remaining Gruyere, and bake the sandwiches for 5 minutes. Turn on the broiler and and broil for 3-5 minutes, until the topping is bubbly and lightly browned. Serve hot.
Sharlene Hensrud, RE/MAX Results - Email - Minneapolis Realtor Who Cooks