"In the spring I have counted one hundred and thirty-six different kinds of weather inside of four and twenty hours."
~ Mark Twain
NOTE: I spend my Wednesdays Unplugged from appointments. It's my day to stay home, enjoy cooking and welcome our kids and grandkids for dinner in the evening. We end our meal with quotes from the Norwegian 'Quote Cup' passed on to me from my grandmother. I share a quote and a recipe here each week, and sometimes some photos of family fun. I love trying new recipes...and love getting recipes you would like to share!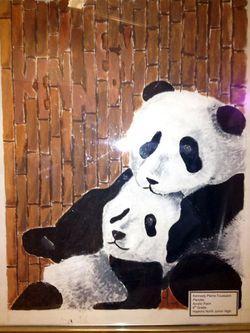 Our granddaughter got the red plate last week even though it was our son's birthday dinner week. Her panda painting was selected to be featured in an art show at the Hopkins Center for the Arts. Congratulations, Kennedy! We are supposed to have several days warming up into the 40s... hopefully it will quickly melt our piles of snow!
RECIPE OF THE WEEK
I first made and featured Bakesale Betty's Fried Chicken Sandwich in 2008. I discovered the recipe in a newspaper feature in San Francisco when we were there for a conference in 2007, at the time of the bridge crash here. I remember getting a call while we were having dinner saying everyone was ok... and not having any idea why we should be worried. But I digress... since that debut in 2008 'Bakesale Betty' has been a favorite birthday dinner request and this year was no exception... it was our son's request last week.  The chicken is deliciously flavorful and juicy but it is the coleslaw topping that really makes it outstanding. Our family likes to add mayonnaise as well.  Use soft rolls to contrast with the crunchy chicken.
BAKESALE BETTY'S FRIED CHICKEN SANDWICH
6-8 boneless skinless chicken breasts, about 6 oz each
 Kosher salt to taste
1 quart buttermilk
6-8 soft kaiser rolls
The vinaigrette
1 tablespoon Dijon mustard
3 tablespoons red wine vinegar
1 teaspoon kosher salt
1/2 cup extra virgin olive oil
The coleslaw
1 small red onion, very thinly sliced
1 cup red wine vinegar
2 jalapenos, seeded, and diced
1/4 cup chopped parsley
1 package angel hair shredded cabbage
Kosher salt
The breading
4 cups all-purpose flour 
1 tablespoon cayenne pepper
1 tablespoon kosher salt + more to taste
1 1/2 teaspoon freshly ground pepper
Vegetable oil, for frying
Instructions: Season chicken breasts with kosher salt.  Let sit at least 5 minutes.  Fill a wide, shallow nonreactive bowl or casserole dish with buttermilk.  Add the chicken and soak in the refrigerator for 1 hour up to overnight.
For the vinaigrette: Combine mustard, vinegar and salt in a bowl. Slowly whisk in olive oil until well blended.
For the coleslaw: Macerate onions in red wine vinegar, and let sit at least 20 minutes.  Remove onions and discard vinegar.  Toss onions with jalapeno, parsley, cabbage and salt.  Toss with vinaigrette until evenly coated.
To fry chicken: Pour vegetable oil into a large stockpot or deep fryer.  Do not fill up more than halfway, or the oil could spatter.  Bring oil up to 365 degrees, using a digital thermometer/candy thermometer to monitor the heat.  Prepare the breading while waiting for oil to heat up.
In a wide shallow bowl, mix flour, cayenne, salt and pepper.  Pull a chicken breast out of the buttermilk one by one, letting excess drip off, and dredge completely in flour.  To create a thick crust, place in buttermilk and dredge in flour a second time.  Do not drain or shake off excess buttermilk or flour during the breading process.
When the oil is at 365 degrees, carefully place chicken pieces into oil one by one.  Let it cook for a minute before disturbing chicken, then help it "swim" in the oil with tongs, until it is evenly cooked, about 5-7 minutes.  Remove chicken from oil and drain on paper towels.  Season immediately with salt.
For the sandwich: Place fried chicken breast on bottom of roll and top generously with coleslaw, slather bun with mayo if desired.
Sharlene Hensrud, RE/MAX Results - Email - Minneapolis Realtor Who Cooks