"We have to help others - that's what makes us civilized." ~ Blaine Moreland

NOTE: I spend my Wednesdays Unplugged from appointments. It's my day to stay home, enjoy cooking and welcome our kids and grandkids for dinner in the evening. We end our meal with quotes from the Norwegian 'Quote Cup' passed on to me from my grandmother. I share a quote and a recipe here each week, and sometimes some photos of family fun. I love trying new recipes...and love getting recipes you would like to share!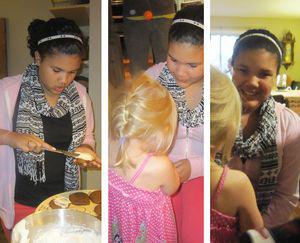 It's hard to believe our oldest granddaughter is already 13 years old! She is so pretty and helpful... helped me frost cookies and had fun braiding her little cousin's hair last time we were together.
This week's quote is from the father of a client, who used to read multiple newspapers and books daily until he had a stroke and could no longer read. She said she read an article to him from the front page of the Star Tribune about severe tax cuts on programs for those in need, and afterwards asked him what he thought about it. His response is this week's quote. Even after a stroke, he kept this helping mentality in his heart and she was so proud.
RECIPE OF THE WEEK
This week's recipe is a knockoff of Buca's apple gorgonzola salad. The dressing and walnuts go great with any salad... or eat the spiced walnuts as a snack.
APPLE GORGONZOLA SALAD with Italian Vinaigrette and Spiced Walnuts
Leafy romaine
Chopped tart apples
Craisins
Gorgonzola crumbles
Spiced walnuts
Italian vinaigrette
Toss and serve!
ITALIAN VINAIGRETTE
1/3 cup white wine vinegar
3/4 teaspoon dried oregano
1/2 teaspoon dry mustard
1 teaspoon salt
1 pinch black pepper
1/8 cup red onion, chopped fine
1 1/2 teaspoon minced garlic
3/4 cup olive oil
Combine the vinegar, oregano, dry mustard, salt and pepper in a blender. Add the onion and garlic. Blend together whill slowly adding the olive oil. By adding the olive oil slowly, it will emulsify with the other ingredients creating a thicker vinaigrette.
SPICED WALNUTS
1 egg white
1 tablespoon water
2 cups walnut halves and pieces
1/2 cup sugar
1 teaspoon cinnamon
1/4 teaspoon cloves
1/4 teaspoon nutmeg
Preheat oven to 225 degrees F and line a large shallow baking pan with foil.
Combine egg white and water, beat until foamy. Add walnuts and toss to coat. Pour the mixture into a strainer and let drain 2-3 minutes. Combine sugar, cinnamon, cloves and nutmeg in a plastic bag. Shake to mix, then add walnuts and shake to coat.
Spread nuts in one layer on prepared baking sheet and bake one hour, stirring every 15 minutes. Cool completely, stirring completely and breaking nuts apart if stuck together.
Sharlene Hensrud, RE/MAX Results - Email - Minneapolis Realtor who cooks