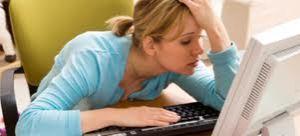 Every Wednesday around 3.30pm is the time when we (women) look the worst, our true ages are revealed, collagen loses its miracle. The impact of 'Wednesday 3.30pm' is more powerful than any other day and time of the week.  All these are because of hard work since Monday, heaving outing since weekend, and sometime—heavy drinking, too.
A survey in UK showed that 2/3 of working women had admitted that every Wednesday afternoon they feel like they are dead to the world. One forth of them said that they need to eat something to boost up their energy level.
It is common for people who spend Weekend especially Sunday going out late, to have an insomnia on Monday's night. Lack of sleep, hard work, and the side effect of the alcohol  they drink over the weekend will all expose on Wednesday afternoon, making women looking terribly tired.
Although we cannot bring back our energy instantly, but simple 'must-have' tools in the office for ladies will help invigorate our spirit and bring back our beauty during tiring Wednesday.
How about this list…
- Concealer: to remove dark circles under the eyes including acne and other blemishes
- Facial Spray or Thermal Water Spray : to moisture and hydrate the skin, without disturbing the makeup on the face.
- Lip Balm: to add moisture to your lips, lip balm should be a regular item we carry around.
- Eye Drops: to hydrate your tiring eyes and sweep away irritation caused by long gaze on the computer screen.
- Toothbrush & Toothpaste: brushing your teeth help freshen up your spirit and mood due to therapeutic peppermint aroma in the toothpaste we use.
- Aromatherapy Moisturiser: hand cream or body lotion will do. Choose aroma from lemon, orange, peppermint, or lavender, it will lift up your energy, and ease off your stress.