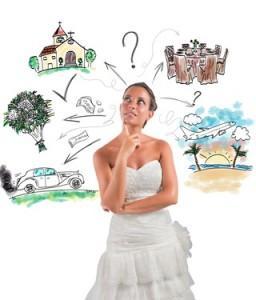 How are you going to determine the wedding planning services you're going to offer to brides? I hope it's not by looking at the websites of other planners and offering similar services. If you're planning to do this, you probably won't have the successful wedding planning business you dream of having.
Here are 6 questions you should ask yourself that will help you choose your services:
1) Who is my ideal bride?
Please don't answer, "Anyone getting married." Do some research and decide exactly who you want your clients to be, their age, level of education, occupation, income, wedding budget and style.
2) What are her wedding planning problems?
Once you know who you want to target, find out her wedding planning problems. For example, does she worry about her budget? Where she can find a venue or the right wedding vendors? Is she having trouble determining what the style, theme or colors of her wedding should be? Does she want to follow some family traditions but not know how to do it? Is she trying to DIY as much as possible but needs help with some of the bigger things? Is she just overwhelmed with no idea where to start?
3) What can services can I offer that can solve her problems?
Think about your knowledge, skills, experience and resources and create services that can solve her problems.
4) How are these services different from what other wedding planners offer?
Unless your services are unique and specifically targeted to your ideal bride, you won't be successful in standing out from the competition as the wedding planner she should chose.
5) How much could I charge?
You need to be able to make a profit while charging a price that your ideal bride would be willing to pay.
6) How and where am I going to market these services?
You could have the services that are perfect for your ideal bride but without the right method of marketing, she won't know your services exist. Figure out where she would go to look for these services and make sure she can find you there. For example; she could be looking at wedding websites, bridal magazines, Facebook, Pinterest, Yelp, church or maybe getting referrals from venues or wedding vendors. Have a presence wherever she would go to look for answers to her wedding planning problems.
Taking the time to answer these questions will help you choose the services that could give you a successful start to your business. Once you've gotten more experience planning weddings, consider going through these questions again and adding more services that will help your ideal bride.
And if you want help to become a top wedding planner, sign in to get my ezine "Wedding Planner Tips."