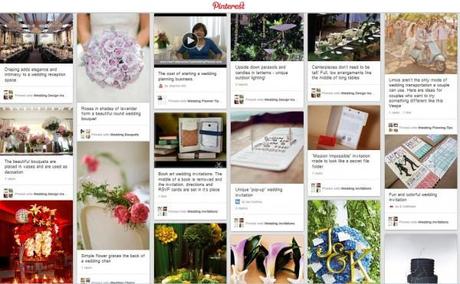 As a wedding planner you probably have a Pinterest account for your business that includes boards with inspiration and designs for weddings and fashion and beauty tips for brides. But are you using the power of Pinterest to the fullest to market your business?
I spent time the last few days watching a course on Pinterest by Melanie Duncan, Pinterest marketing expert, in which she talked about some of the boards she believes service businesses need to have. (I am not an affiliate).
Here are the 5 boards that I believe are important for wedding planners and would be easiest for you to create:
1) Before and After
Take photos of venues before and after you have completed your wedding set ups and pin them so brides can see what you do. This is especially important if you are a wedding designer in addition to being a wedding planner.
2) Testimonials
Get permission from your brides to post their photos and testimonials on a board on Pinterest.
3) Your Services and Packages
Pin screenshots of pages of your website in which you talk about your products and services and give some additional information in the comment section.
4) About Me
Pin photos that give glimpses of who you are and what you like to do so brides can get to know you. For example, photos of you working in your office, having fun playing your favorite sport or working on your favorite hobby, and pin snapshots from your travels.
5) Blog Posts
If you have a blog, create a board that contains your posts to make it easy for brides to read them when looking at Pinterest.
Don't forget to have a Pinterest tab on your Facebook Page so your fans can see what you have been pinning. You can easily create one using a free Woobox App.