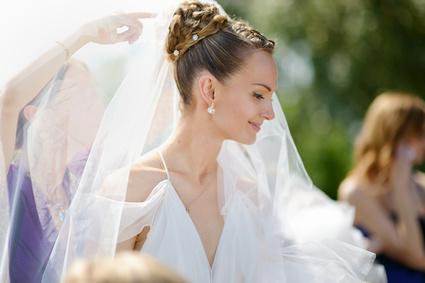 We're right in the middle of a fabulous bridal show season (January through March). My tips today can help you get the brides you want after a show whether you're a first time exhibitor or experienced and just not getting the results you want.
Question
I have experience planning weddings and events and started my business last year. I've exhibited at a few of the biggest bridal shows and wedding events in my area. I've met and talked to a lot of brides. I figure the more I meet, the better my chances of getting clients. I've gotten a lot of interest but I'm having trouble getting hired.
Any suggestions?
Answer
Good for you for getting out and meeting brides! I know it can be discouraging not to get hired after putting in a lot of effort. It's likely that you may just need to make some small changes in what you are already doing to get brides to see they need to hire you.
Here are 5 questions to answer about the way you exhibit that might help you see what you can do differently to bring in clients:
1) Have you chosen the bridal shows that attract brides in your niche?
Bigger isn't always better. Before signing up for your next event, find out if the show attracts your ideal bride.
2) Do you have unique services that brides attending the shows need?
Since you're talking to a lot of brides, you probably have gathered a lot of information about their wedding planning problems. Use that information to create the services that they will want to buy from you.
3) Do you let brides do most of the talking?
Don't be so eager to get hired that your whole conversation is a sales pitch. Show you are interested and ask questions so you can learn how you can help them.
4) Do you clearly explain the benefits of your services?
Once you understand how you can help a bride, be sure you don't just rattle off your list of services. Tell her how the services you offer can solve her problems. Give examples of how you have helped brides who have had similar concerns and show photographs of what you have done.
5) Do you follow up after a show?
Most brides will not hire you during a bridal show so you need a follow up plan. Make appointments to meet for short, free consultations and get permission to email them. And don't forget to give them your contact information with your social media addresses so they can follow you. (Read my blog post with more tips on following up after a bridal show.)
Bridal shows aren't the only places to meet brides. Join social and business groups that brides in your niche might also join. In an atmosphere in which the bride isn't worried that people are out to sell wedding services and products to her, she may be more relaxed and open to getting to know more about you and eventually, hiring you.
And if you have a pressing question about starting or running your wedding planning business, you can send me an email at [email protected] I will answer them on this blog or in my ezine, "Wedding Planner Tips," which you can subscribe to here.