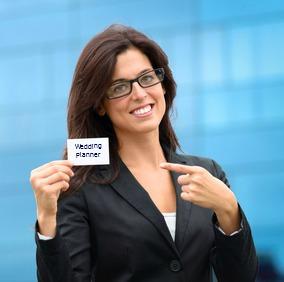 If you're ready to start telling family and friends about your new wedding planning business, you'll need to have business cards ready to hand out to make it easy for them to remember your business and refer you to others.
Question
I'm ready to get my first business cards. What do I need to have on them?
Answer
I'm glad you are getting business cards, they are a great form of low cost marketing that you can take everywhere you go.
Here's the information you'll want to have on your cards:
Your name
Business name
Your tagline – your memorable slogan that tells people about your business
Business address
Business phone number
Email address
Website/blog URL
Facebook Page, Pinterest and/or Twitter name and URL
And here are 6 tips for designing and ordering your cards:
1. Make sure the font you use is a legible size and style.
2. Maintain the same look and feel on your business cards that you have on your other printed marketing materials and your website and blog, so brides recognize you.
3. Don't crowd all of your information on one side of the card, use both the back and the front.
4. Use the best quality paper and printing you can afford. There are many local and online printers who offer good deals, so shop around and ask to see samples.
5. While larger quantities will mean cheaper pricing, new wedding planners often don't keep their first designs for a very long time. You may want to make small changes after you start handing them out, so don't order more than you might use in a few months.
6. Before you sign off on printing, proofread your card several times and ask a friend to look at it too. It's difficult to catch mistakes when you edit it yourself.
Consider getting matching note cards so you can drop quick "Thank You" notes off to brides and vendors after your first meetings and to your clients after their events.
And you can learn more about starting your wedding planning business in my Free Special Report "7 Steps to Becoming a Top Wedding Planner." You can get it here.