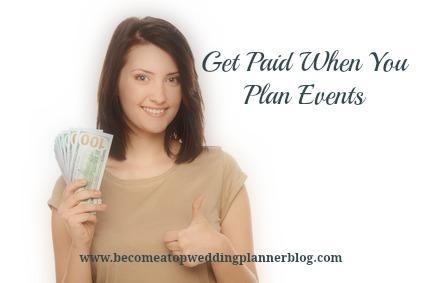 Have people asked you to plan weddings or other types of events for free? Sometimes they will tell you that it will help you get exposure. Or that it'll give you an opportunity to meet lots of potential clients and influential people. Unfortunately, it doesn't always happen. What does sometimes happen is you find yourself donating your time, money and energy with little benefit.
In my Q and A today, I offer advice on handling people who want you to plan events for free.
Question
I'm studying to be a wedding planner so I haven't planned any weddings yet. I'm trying to make some money by planning other types of events on-the-side. However, when I tell people my rates, they complain and want me to plan events for free. What do I do?
Answer
If you're brand new to event planning and don't have any experience, you may need to plan some events for free to increase your skills and learn how to work with clients. If this is the case, be selective and be sure the events you take on truly give you the opportunities you want. Also, be very clear about the services you're providing so your "clients" know exactly what to expect.
If you already have experience and can offer professional-level event planning services, there's no reason you shouldn't be paid and these 5 tips will help you:
1) Be clear about your skills
Just because you're still studying to be a wedding planner doesn't mean you don't have the knowledge and skills to plan events. It's fine to let people know you're studying wedding planning but also tell them you already have experience in planning other types of events so they understand you're not a newbie. Show them photographs, talk about past events you've planned and share testimonials.
2) Decide what services you can offer
If you're only going to do event planning on-the-side, you may have to be selective about the types of services you can offer because of your schedule. Determine what those services are and who can benefit from them, then promote yourself as an event planner who specializes in those areas of planning. People will recognize your value and be willing to pay you when you establish yourself as an expert in giving them the help they need.
3) Act like a professional
Even though you're doing this on the side, you need to act like a business owner, because you are one. Dress professionally, be on time for your meetings and appointments, follow up with anyone who asks about your services and take the time to market your services, both online and off, to attract clients.
4) Set boundaries
When I first started, I had people inviting me to coffee to "pick my brain" about events they were doing themselves. I ended up spending hours helping plan many events without pay. What I should have done, and what you need to do, is make one of the services you offer a consultation for people who just need event planning guidance. Then, when someone just wants to "pick your brain" and wants hours of advice, suggest they schedule an appointment for a paid consultation in which you can help them plan an event they can execute themselves.
5) Don't be afraid to say "no'' to giving away your time
You time and skills are valuable and you deserve payment for what you have to offer. If you start to plan events free when you could be charging, you'll be starting a habit of accepting less than you deserve. You won't be happy and you'll have a difficult time making your wedding planning business a success.
And if you have a pressing question about starting or running your wedding planning business, you can send me an email at [email protected] I'll answer them on this blog or in my ezine, "Wedding Planner Tips," which you can subscribe to here.
Save
Save
Save
Save
Save
Save