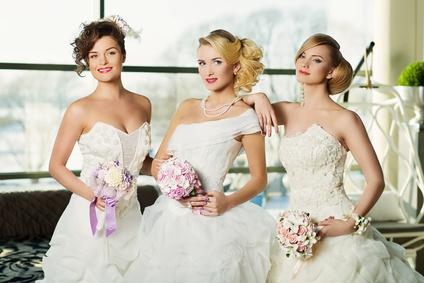 In my Q&A today I answer a question from a part-time wedding planner who uses social media to promote her business and wants to attract more brides so she can be a full time planner. The tips I offer here may work for you too!
Question
I'm working at a job and planning weddings part-time but would love to make it full time. I use Twitter and Facebook to promote my business. I also advertise by word-of-mouth when I attend events.
How do I attract more brides?
Answer
It's important to be on social media sites and equally important to get out and talk to people about your services so you have a great start. Now you need to step it up a notch and get out in front of more potential clients.
Here are 6 tips for increasing and improving your marketing so you can attract more brides:
 1) Separate your business and personal social media accounts
Your Twitter account only has tweets of a personal nature. Start a new account just for your business and keep it professional. Do the same for any other sites you might use, such as Pinterest and Instagram. Pinterest is a fabulous site for you to use to show brides your style and promote both services and products, take advantage of it and get a business account.
 2) Post more often on your Facebook page
You haven't posted to your page for almost six months so you haven't appeared on your followers' timelines in a long time. You need to post frequently, as least once a day, to get yourself in front of people. You might also consider purchasing advertising on Facebook but get use to posting regularly before you do this.
 3) Post relevant information on your Facebook page
Once you start posting regularly, make sure it's clear to people that you plan weddings. I actually thought you were a baker or caterer because your cover photo is a wedding cake and you post frequently about food. It's fine to post wedding cake and catering ideas but make comments explaining why, as a wedding planner, you are posting a particular photo.
 4) Create a website or blog for your business
While it's tempting to just use free social media accounts for online marketing, you need to have your own site. You can fill it with information about the benefits of your services and photographs of your work and have links out to your social media accounts.
5) Put links to your online sites in your email signature
I noticed you listed your social media accounts at the bottom of your email. Instead of just listing their names, make them clickable links to the accounts. You'll be connecting with a lot of brides and wedding vendors via email and you want to make it easy for them to go to your accounts to find out more about you.
I suggest you change the "Sent from my iPhone" type signature that appears when you send emails from your phone to a marketing message or a link to your website or Facebook page.
 6) Meet new people
Get out, find new, diverse places to network and socialize in person so you can meet new people and introduce them to what you do. Also, make it a point to meet wedding vendors who work with the types of brides you want so you can create your own network for referrals.
You've already got some of the basics in place to help you attract brides, just spend a little more time increasing your presence and letting brides know you're a professional. You'll soon be attracting many more brides than you are today.
And if you have a pressing question about starting or running your wedding planning business, you can send me an email at [email protected] I will answer them on this blog or in my ezine, "Wedding Planner Tips," which you can subscribe to here.