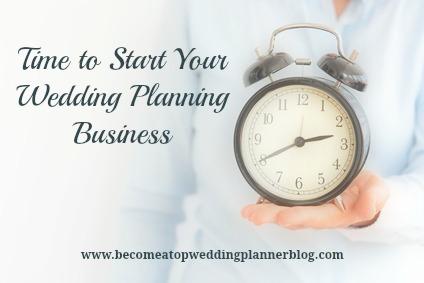 Does something always seem to get in the way of starting a wedding planning business? In my Q and A today, I offer tips that will help you remove your obstacles and get your business going.
Question
I'm starting a wedding planning business. I have office space, so it's just a matter of doing it. I find I keep procrastinating. Every time I solve a problem or take a step closer to starting up, I find there is always something else I need, or need to do. I am always waiting to complete a step and the time just passes. I have no doubt I can do this, I just need to get started. How do I do it?
Answer
If you've already gotten your office space, you've already started your business. It's time to quit getting "closer to starting up" and actually work on your business.
Here are 7 steps for you to take:
1) Get organized
Write down everything you feel you need to do to move your business forward that you haven't done. Examples – write a business plan, find and join a wedding and event planner association, start a Facebook Page, start a website or blog, find wedding vendors, etc.
2) Set deadlines
You mentioned, "time just passes". Don't let this happen anymore. Set deadlines for all of the items you wrote down above, break each one down into small, manageable tasks and schedule them on your calendar.
3) Find an accountability partner
Find a fellow wedding vendor, business person, friend or family member with whom you can discuss your plans, who will encourage you and hold you accountable for meeting your deadlines.
4) Forget about being perfect
I read once, "perfection doesn't pay the bills". So true, I know as a wedding planner you're probably a perfectionist. You'd like everything to be perfect before you start your new business but it's an impossible goal to attain. Strive for excellence; not perfection.
5) Speak about "having" not "starting" a business
"Starting" a business sounds to others, and you, like it's something you're planning to do in the future. Instead, you want others to know you are in business and ready to get clients. After all, wouldn't you work for a bride now if the right one wanted to hire you as her wedding planner?
6) Get a client
Nothing will make you feel more like you're in business than getting hired by your first paying client. It doesn't have to be for full service wedding planning. Your first bride might just need a "day of" wedding planner or simply a few hours of consultation time. Start promoting your services now.
7) Remember your dream
Isn't it your passion to be a wedding planner and help people have beautiful weddings? It's not going to happen if you just let time pass and never put your office space to good use. You've got to get moving.
And if you have a pressing question about starting or running your wedding planning business, you can send me an email at [email protected] I'll answer them on this blog or in my ezine, "Wedding Planner Tips," which you can subscribe to here.
Save
Save
Save
Save
Save
Save
Save