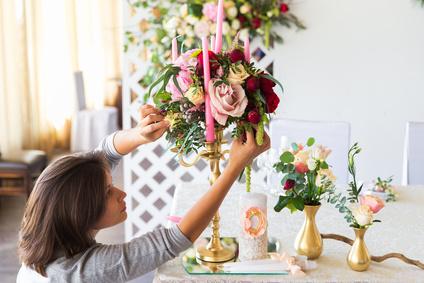 Here's some advice if you're passionate and excited about starting a wedding planning or wedding design business but don't have any experience.
Question
My passion is wedding decorating. I have no experience and really can't afford to pay for any classes right now. I would like to specialize in draping but the classes are pricey.
I am very excited and want to start decorating events now. I have spent hours brainstorming and have put together a binder of ideas.
Do you think it would be okay to start without any experience? What should I do to get started?
Answer
It's great to have a binder full of ideas and I encourage you to keep that up and also to create Pinterest boards full of ideas and inspiration. But you have to know what you're doing when you take on clients, so you need experience.
You also want to be sure that doing draping and event décor is right for you, and you can only know that if you've spent some time doing it. Looking at photos and appreciating designs is one thing, executing them is another.
Draping is an art and a skill. You'll need to not only know how to design what your bride wants, you'll need to know the types of fabrics that give the right look, the supplies and props needed to create the design, the part color and lighting play in the design and the professional staff you'll need to put it all together. Also, you'll need to know how you and your staff can work safely when installing draping and other items.
If you can't afford to take classes, look into getting an internship, apprenticeship or job with an event rental company that does draping and tents in addition to renting party supplies. Or, look into an internship or entry-level job working for florists who do high-end weddings. They design tablescapes, archways, gazebos and floral chandeliers for large weddings and may provide opportunities to earn money while learning the business.
As you develop experience, reach out to people you know and start designing events for free to build your portfolio.
I know you want to start right away so this probably isn't what you wanted to read. But you want to be an expert at what you do and education and experience are keys to building a great reputation and a successful business.
And if you have a pressing question about starting or running your wedding planning business, you can send me an email at [email protected] I will answer them on this blog or in my ezine, "Wedding Planner Tips," which you can subscribe to here.