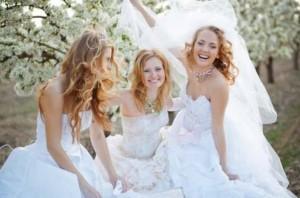 The bridal fair season has started and if you are an exhibitor on one of these events you need to be organized and prepared to attract qualified brides to your booth. In my Q&A today I tell you just how to do it.
Question
I'm going to be an exhibitor in a bridal fair, can you give me any tips? What should I bring?
Answer
Great question! Here are tips that will help you to attract brides and make them want to hire you:
Before the Bridal Fair
Determine your goals. For example, know how many appointments you want to book with brides and how many new vendors you want to meet and network with at a later date.
Decide your booth layout and décor. Your décor should showcase your creative skills as a wedding planner.
Get your banners, signs and brochures professionally printed. Use the colors of your logo and website for your booth and on all printed materials to make it easy for brides to remember you.
Decide how you will get brides to give you their contact information. For example, you could raffle off a consultation service for creating a budget, creating a timeline or determining a theme.
Tell your Facebook fans and Twitter followers you'll be an exhibitor at the bridal fair and ask them to meet you there.
Plan a post-fair marketing campaign. Create an email to send out the day after the fair thanking brides for stopping by your booth. You can also send a postcard as an additional thank you and reminder.
Clear your calendar for the week or two following the fair so you can schedule appointments with brides.
Train your staff. You must have one or two people work the fair with you who are able to speak intelligently about your services, take notes, and book appointments.
What to Bring to a Bridal Fair

If you are going to be doing a number of fairs, create a box or case with all the things you need so you know you can be ready quickly. Just like your wedding day emergency kit, nothing should be taken out of it and used elsewhere. And you should replace any used and missing items right after the event.
Here are things you might want to include:
Box to keep all of your leads in one place
Breath mints
Brochures and any other printed materials
Business cards
Clipboards
Mirror to check your hair and teeth
Note pads
Pens
Safety pins, in case you need to pin linens in place
Signs and banners
Scissors
Small first aid kit
Stapler and staples
Swiss army knife
Tape – Scotch tape and shipping
A few bottles of water for you and your staff
On the Day of the Bridal Fair
Arrive early, you don't want to be setting up after the fair opens.
Eat before you leave your house. You don't know when you might be able to get away and you can't eat in your booth!
Arrange your booth so the space is open and inviting. Do not stand behind a table and never sit.
Do not use your phone to talk or text during the show.
Smile and be friendly. Brides remember the vendors who are willing to take the time to talk with them about their weddings.
Bring your calendar so you are ready to book appointments and follow-up calls.
Plan to stay until the end.
Wear comfortable shoes.
After the Bridal Fair
Within 24 to 48 hours, call any brides who requested a follow-up.
Also within 24 to 48 hours, send out your follow-up email and/or postcard and plan future emails so you stay in touch with them.
Call and confirm any appointments you made.
Post photos of you talking to brides in your booth on your Facebook page.
And if you need additional information on exhibiting, get a copy of my Action Guide, "Exhibiting at Bridal Fairs and Wedding Expos." It's available as a Kindle book on Amazon.com and as a downloadable, printable eBook.