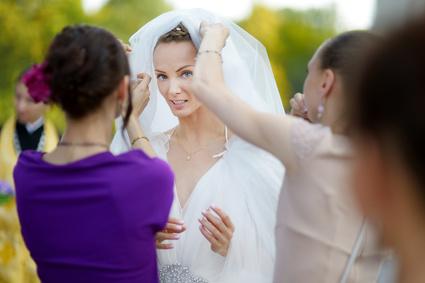 Every year Forbes magazine lists event coordinator as one of the 10 most stressful jobs a person can have. And, it can be especially difficult when you're new and still are maintaining a regular job, as the wedding planner in my Q&A today has found.
Question
I'm planning my first wedding now and love it but feel stressed and overwhelmed because I also have a day job. How do I manage having a wedding planning business while I still have a job? I'm hoping I can have enough business someday to plan weddings full time.
Answer
Many successful wedding planners started out doing it as a second job. You can too if you have passion, determination and can manage your life well so you minimize your stress.
Here are 5 tips that will help you succeed:
1) Start small
Only take on the work you can do in an excellent way. This may mean you start with consulting and planning and coordinating small, intimate weddings. Then, when you get more experienced managing your job and wedding planning business, you can add assistants and plan more and larger weddings.
2) Be super-organized and clutter-free
Not only does your wedding planning work need to be organized, your life does also. Write notes when you plan weddings so you don't lose track of important details. Keep a schedule and put your job, business and personal "to-do's" in one planner so you stay on top of all of your commitments.
Also, make your home and workspace clutter-free so you know where things are and don't waste time and energy, which can be in very short supply when you have a job, a business and a personal life, searching for things you've misplaced.
3) Hire help
A business, part time or full time, can't grow without the assistance of others. Get help with your chores at home and with your office administrative duties and/or social media marketing. Get assistants to help you onsite with weddings and include their pay in your rates.
4) Partner with others
Partnering with another wedding planner or a caterer or florist who handles weddings will spread out some of the responsibilities. However, make sure you have an agreement as to what each of you is supposed to contribute and how much to the profits each of you is entitled to.
5) Have downtime
Don't spend every waking minute working. You need to pace yourself and take the time to recharge so you have more stamina, can think more clearly and can be ready to handle any emergency a bride and groom have during their wedding planning process. And, you need to be able to enjoy life!
And if you have a pressing question about starting or running your wedding planning business, you can send me an email at [email protected] I'll answer them on this blog or in my ezine, "Wedding Planner Tips," which you can subscribe to here.