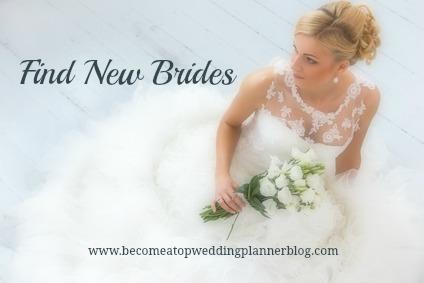 You've started your wedding planning business and now you need brides to hire you! In my Q&A today I offer tips on how to find and attract the brides you want.
Question
My daughter and I started an event management company and we specialize in weddings. Other than bridal shows, are there other methods to find and attract brides to our service?
Answer
Bridal shows are only one way to attract brides and are not the right marketing method for every wedding planner. In order to be successful at a show, you and your booth staff will need to feel comfortable talking to brides and persuading them to book an appointment with you. You'll also need to have a great follow up strategy to continue connecting with brides after the show is over.
So, if you have a brand new wedding and event planning business, this might be the time to use other methods to find and attract brides and just visit shows to gain the knowledge you need to be a successful exhibitor later.
Here are 5 tips that can help you find and attract clients now:
1) Know your target market
I know I bring this up a lot but unless you know who your ideal bride is, for example, her age, profession, religion and lifestyle, etc., your marketing efforts will be vague and general and not appeal to any bride. You need to target a specific type of bride and create the services that solve her wedding planning problems, then market them to her.
2) Let your personal network know you're a wedding planner

Your first brides will most likely be people you know or people who have been referred to you by people you know. So, don't be shy about telling family and friends about what you do and how your services help engaged couples. And, tell those who provide services to you, for example.your hairstylist, manicurist, massage therapist, you never know who they might know.
3) Promote yourself to wedding vendors
It's important for you to create a network of vendors who work with the type of brides you want to target. Attend bridal shows and wedding and event industry association meetings and conferences to meet vendors. Be sure to make a good impression, you'll need to stand out as the wedding planner they'll want to refer over all others.
4) Find new places to meet people
With your ideal bride in mind, get out of your office and go where you can meet her, and others like her, and the people who can refer them to you. These places might be a:
Gym – join classes and get to know other members and instructors (they often have the latest news about members and know who might need a wedding planner)
Place of worship – the place where you worship may need help coordinating weddings or have members who could use a wedding planner
Charitable organization – volunteering not only gives you the ability to give back to your community, it also gives you an opportunity to meet potential clients
Business networking group – professionals in many types of businesses might have clients or family members who need a wedding planner (small business owners love to refer fellow small business owners)
5) Have a solid online presence
Have a website and/or blog and be active on social media sites, Facebook, Pinterest, Instagram, Twitter and/or LinkedIn depending on where your brides keep up with their friends and followers. Being active means  posting frequently, sharing your opinions about the things you post and asking readers to comment.
Understand that a bride probably won't hire you as soon as she meets you or sees you on social media. She'll first want to feel like she can trust you to plan her big day. So don't jump into a sales pitch when you first connect. Set up a consultation over the phone and/or in person. Prove you're genuinely interested in her by asking questions, listening carefully and taking the time to establish a good rapport. Then determine which of your services can meet her needs and talk to her about the benefits of having you as her wedding planner.
And if you have a pressing question about starting or running your wedding planning business, you can send me an email at [email protected] I'll answer them on this blog or in my ezine, "Wedding Planner Tips," which you can subscribe to here.