Weddell seals are born with brains which are 70% the size of their parents, but a body mass of only 6-7%. The reason for this precocial development of the brain, when body fat is so crucial to mammals in Antarctic conditions-developing navigation skills.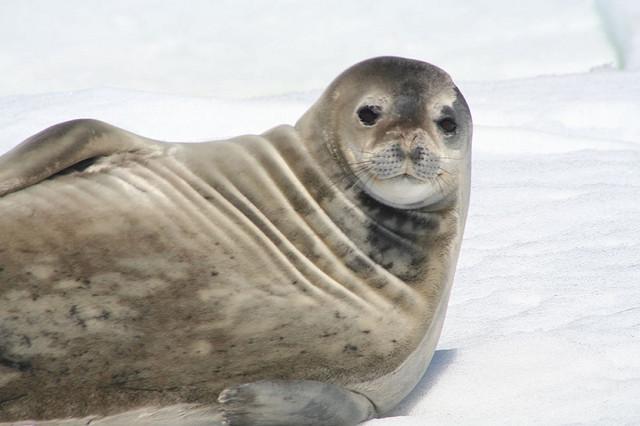 Image courtesy of Chad Rosenthal

Weddell seals (Leptonychotes weddellii) will travel huge distances beneath sheets of sea ice surfacing through air holes in the ice as infrequently as every hour. They can travel up to 20km in this time and come to rest in the Antarctic sheets. The Female Weddell seal will give birth on the ice sheets, protecting the offspring from killer whales (Orcinusorca) and leopard seals (Hydrurga leptonyx) which do not travel so far under ice. Once they are born, the Weddell seal pup has a limited time with its mother to develop the brain functions and skills it will need in the water to navigate in such a dangerous environment and learn to quickly scan for air holes in the ice.  An article published in Marine mammal science recently, found that the pups are born with less body fat than other seals in a similar environment but a brain which is 70% its adult size. A human brain is only around 25% its adult size when we are born.
Seals were a good species for the focus of the study, as often marine mammals will have larger brains than terrestrial mammals of a similar size. This is put down to coping with navigation in a complex marine environment and developing communication skills-especially in social cetaceans like dolphins. The Weddell seal pups first takes to the water at only 7-12days old. At this point it will not have gained much fat from nursing from their mother as much of energy they derive from the milk is used by their brain and they will still have their lanugo (a downy fur present in the womb which is shed after a few weeks and replaced with their more protective adult coat).
On entering the icey water with little physical protection, the pups become very cold and will often be observed shivering. The early immersion into temperatures of around (-1.8c) can lead to pup mortality due to hypothermia and some will drown as they are unable to get back on to the ice through ice holes. Interestingly, the Weddell seal is not driven in to the water early by environmental pressure (such as ice melt or tide) but the need to develop spatial memory and motor skills for traveling in under ice environments. Since they will only have around 40-50 days in which to develop and learn these skills with their mother before they are left to be independent, the Weddell pup has to take the risks to get an early start. Being born with such a large brain allows the pups to make the most of the short time they have to hone these vital skills.
By Emma Gardner