Zaneilia A. Harris is from a small town in southern Virginia where she got daily doses of natural beauty and the ugly limitations placed on women and minorities.  "In Kenbridge, the highest position most Black people achieved was being a teacher or vice principal." 
The small town girl left Kenbridge by way of internships in the DC area, went on to work with the big boys in the big world of finance, Edward Jones, Merrill Lynch.  But when she looked around, the same small town limitations were dominant: few women, fewer minorities.  This and other harsh realities inspired Zaneilia in the direction of helping women achieve financial education, wealth, and security. 
Harris w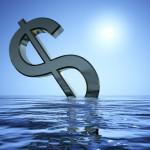 ent on to establish Harris and Harris Wealth Management Group, a boutique financial advisory firm located in Prince George's County with a focus on producing educated, financially savvy women who are able to navigate life's inevitable money waves without going under.  Of her interpretation of financial instruction and strategy, Harris says "I don't want to bog people down with charts and graphs.  My approach is dynamic, relatable, and a process that relates to everyday life."  
To further her mission to women, Harris & Harris Wealth Management is launching this month The Savvy Women Investor Circle (SWIC).  She considered the facts: women were less impacted by the recession

, they outlive their husbands, 23% out earn their husbands, women head households in majority numbers, and divorce has a much deeper financial impact on women then it does on men.  What financial institution is addressing this?  Harris points out, "Most commercials [for financial institutions] show married couples or men. Seldom are women featured."  The Savvy Women Investor Circle (SWIC) prime target audience is women executives/professionals, business owners, and government employees. 
For 12 months, women who are accepted into The Savvy Women Investor Circle will meet to form bonds, strategize, and be empowered.  The monthly monetary commitment to SWIC goes toward actual investments, dynamic instruction, finance consultations, and some other outside the box trainings you'll just have to become a part of SWIC to know. 
"Most investment clubs become stagnant after a time and have to start over by bringing in a financial professional.  SWIC is starting with financial professionals."  
The Pre-Launch for The Savvy Women Investor Circle (SWIC) is Saturday April 28th, 2012 from 4:00pm to 6:00pm at the Huckleberry Fine Art Gallery,  12051 Nebel Street, Rockville, MD 20852.  Pre-registration and an invitation is required.  Please contact Yvonne Lowe at (301) 850-4273.  Paperless invitation HERE.