By Susan Duclos, via
All News PipeLine
Just days after reports that "Jihadi John," the man that been highlighted in videos of ISIS beheading hostages, was "
wounded" in a US airstrike at a secret bunker meeting in Iraq
, another beheading video was released, featuring Jihadi John with the decapitated head of his latest victim Peter Kassig, laying at his feet.
In this latest video, which was different in many ways from the others that have been released,
Jihadi John has a message for Barack Obama
, which he calls the "dog of Rome."
"To Obama, the dog of Rome. Today we are slaughtering the soldiers of Bashar and tomorrow we will be slaughtering your soldiers and with Allah's permission we will break this final and last crusade and the Islamic State will soon, like your puppet David Cameron said, begin to slaughter your people on your streets."
While recent reports show
Barack Obama
plans to send more troops to Iraq and is conducting military strikes in Iraq and Syria, against ISIS, there is evidence that ISIS members and/or supporters are already in the US, shown in Tweets with cell phone photos
directly across from the White House
and in Chicago outside the Old Republic Building at 307 N. Michigan Ave, with the message ""we are here #America near our #target :) sooooooooooooon," followed by another stating "we are everywhere." Further messages included, and will be shown in images below, ""We are in your states, We are in your cities, We are in your streets, you are our goals everywhere."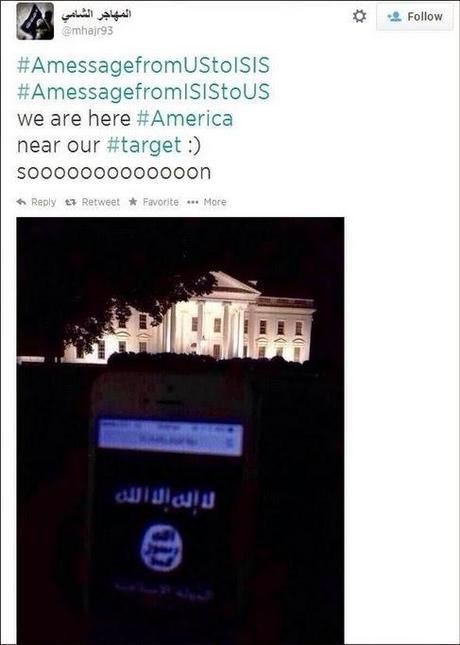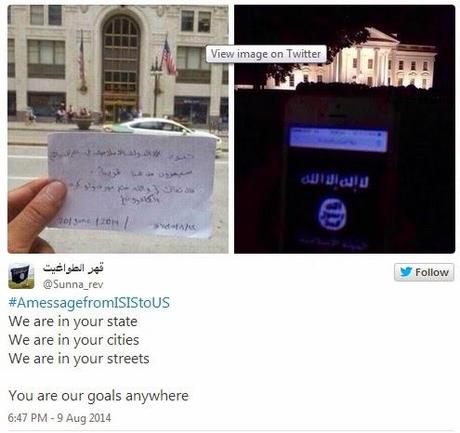 Perhaps the most concerning aspect of this is that
Barack Obama is determined to provide amnesty to up to 5 million illegal immigrants
, and is
disarming the border patrol agents
along the porous borders of the US, even knowing that ISIS members are among those illegal immigrants entering the US.
Questions have to be asked..... why are we sending troops to other countries to fight an enemy that is already on US soil and 2) why is Obama allowing,
inviting
, more to cross the border?
What is wrong with this picture?