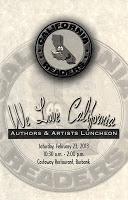 On Saturday, the 23rd of February I attended the
We Love California Authors and Illustrators
annual luncheon, a gala affair sponsored by California Readers celebrating the connection between the creators of children's books and schools and libraries.  It was held at the Castaway Restaurant in Burbank, with a spectacular view of the city on one side and the beautiful hills and golf course behind the restaurant. I always enjoy the luncheon because it is an opportunity to visit with teachers and librarians and other authors; to see the amazing displays by the winning schools showing how they have used books in the California Collection; and to hear inspiring talks, this year by Kendall Haven, winner of the Leo Politi Award, and award-winning authorTony Johnston, our keynote speaker.  I thank all the hard-working members of the California Readers board and luncheon committee for putting on such a successful event.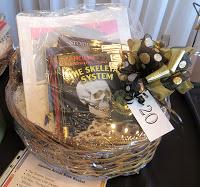 Raffle Basket of Caroline Arnold books
Before the luncheon a raffle was held to raise money for the organization.  Most raffle items were baskets of books, perfect for a classroom or school library.  I was pleased that one of the baskets featured my books and a polar bear print that I donated.  There were a number of other raffle items as well.  I was the lucky winner of a beautiful necklace!
One of the goals of California Readers is to promote author visits to schools in the Los Angeles area and I have done many such school visits over the years.  California Readers also partners with LA's Best to bring authors to speak to children participating in the after school young authors program.  I am currently involved in visiting several LA's Best schools and enjoying it very much.