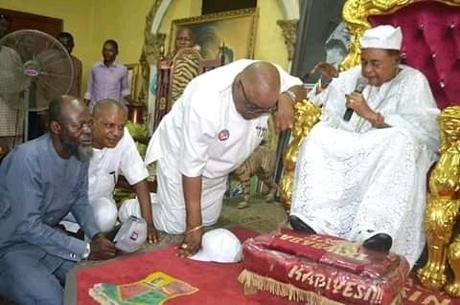 The Alaafin of Oyo, Oba Lamidi Olayiwola Adeyemi and the Oyomesi on Saturday told the gubernatorial candidate of the Action Democratic Party( ADP) in Oyo state and former governor of the state, Chief Adebayo Alao- Akala, to forgive him for any wrong he did to them when he was the state governor, adding that he was always their child in Oyo.
When Alao- Akala visited him, Oba Adeyemi and the Oyomesi pardoned him to inform him of his ambition and ask for his blessings.
The Alaafin said Alao- Akala had acted like a well- trained child over the years, and he can testify that he is a good child, adding that he was forgiven a long time ago and he expected him to return home as a child.
He said he had worked with 13 presidents and heads of states, as well as 20 governors and none of them ever admitted that they made a mistake while they were still in power, both publicly and privately.
The Alaafin stated that Alao- Akala wrote him an apology letter even as a sitting governor and also made public apologies on the radio, adding that it was clear from the content of the letter that Alao- Akala reacted as a child abandoned by his father at the time.
"When a child talks to his father the way he spoke in that letter, it is obvious that he is a well-trained child. He is a good child and he acted like one and I have forgiven him because he is my child," Alaafin stated.
Speaking on behalf of the Oyomesi, the Samu of Oyo, Chief Lamidi Oyewale said that they had all been forgiven, adding that the Oyomesi, the Queens and the princes had met, and they all listened to the advice and healedly forgiven Alao- Akala, who he said was a palace child.
Alao- Akala told the Oyomesi earlier that he came home as a boy who realized his mistake and found his way home.
" I have come home as your child and like a well-trained child, I cannot make the same mistakes twice. I have come for prayers, I know all politicians are your children and you will pray for all of us, it is God that will decide which he will grant because God sees the heart of man in answering prayers.
"I am still the son you know, I have not changed. Help us to put Oyo state in its rightful position as the pacesetter. I know the significance of the Alaafin and the Oyomesi and I won't take tradition for granted. We will not be proud or disappoint you," he stated.
Advertisement