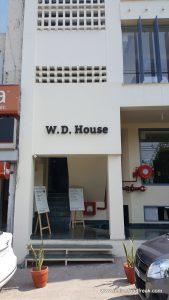 Chandigarh is one of the most well planned cities of India. Designed by the famous French architect Le Corbusier and located at the foothills of Shivaliks, this city is a well executed plan of the architecture. In this dream city of Late Prime Minister Jawaharlal Nehru is Whistling Duck a popular restaurant in Sector 26 run by a husband wife duo – Mr Amber Mehrotra and Mrs Ragini Saigal.
With no background in the hospitality industry they launched their first venture Whistling Duck in September 2013 all out passion for food. Little did they know what started as a passion would turn out to be such a success. Whistling Duck in Chandigarh offers a varied selection of global cuisine. Now a well established restaurant, the owners decided to launch their second venture in Delhi by the name WD House.
WD House located in the M block Market, GK 2 has a completely different ambience from their restaurant in Chandigarh. The restaurant looks like an office building from outside which we find out later has been deliberately attempted. Spread over 5 floors, an ambitious expansion in the expensive GK market, the ground and first floor have seating that is aligned in a single row with an open kitchen. The ample natural light flowing across the restaurant is a big plus the way building is designed. The interiors that have been done keeping the India of 1940's/50's with black and white framed pictures of Air India airhostesses, Miss India's of then, Magician Gogia Pasha etc that adorn the walls.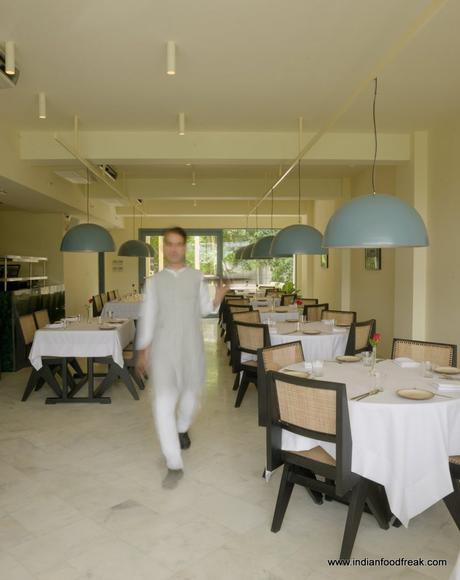 While we are happy with the interiors, they can do better by providing for some sound absorption in the big halls which otherwise can become a bit loud.
The menu at WD House goes with the theme and looks like an office file. The menu impresses with various options from not only across the country but across the globe too. Inspite of the fact that they have quite a few choices the menu doesn't confuse you and is well worded with a glossary too at the end which I think is well thought as it certainly helps guests who are not familiar with certain words or food items.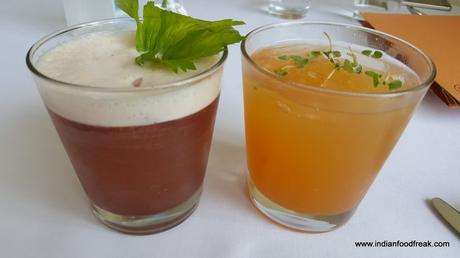 As is the normal course of starting a meal, we begin with ordering our drinks. Both
khubani and adrak soda
and
Rhododendron squash
are extremely refreshing and each flavor in the drink stands out well.
Sundugu Jjigae
is our choice of soup. The portion size is sufficient for two so we ask for serving it one into two. With silken tofu, assorted mushrooms this Korean soup is a treat. It is so flawlessly prepared that no words would describe how tasty it was until you try it yourself.  As per the original recipe it is on the spicy side, so if you enjoy spicy food, I would strongly recommend this soup.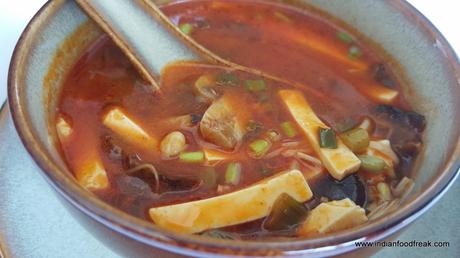 Kothimbir Chi Vadi
The karela (bitter guard) salad starter served almost in a mini pagoda style consists of heirloom tomato, shallots, cucumber with raw mango dressing. Normally bitter guard is not available in the menu of most restaurant. The caramelisation of karela gives it sweetness without completely masking the bitter flavor of karela. This is one of those starters you wish wouldn't finish. Kothimbir Chi Vadi is another on our list of veg starters. These steamed chana dal and coriander cakes are served with spicy sesame chutney. It is very easy to get these dry, but these came just in the right texture and flavor.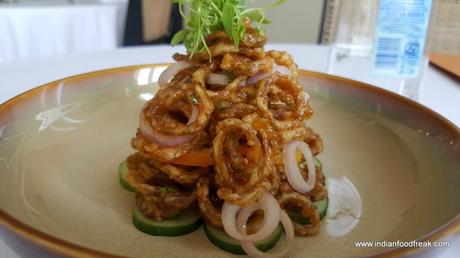 karela salad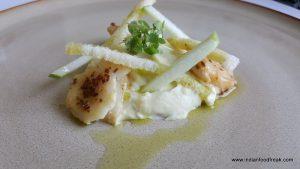 Cumin Scallop
The non veg starters included Cumin Scallops, Tabak maaz and Chappali kebab. Cumin scallops with cauliflower and parmesan puree and very finely chopped green apples is very tasty indeed. The entire combination sits so well and is a delight to eat. Tabak maaz a popular Kashmiri dish made with shallow fried goat ribs. It was served with a plum and ginger chutney. It is different from most other preparations I have had. Not only it has more meat and fat on it, I loved the way mustard marinated onions are served along with it to enhance the flavours. Chappali kebab has its origins from Peshawar and is made of minced goat meat, pomegranate seeds and vetiver (khus) roots. I have to admit here though not much of a mutton lover I ended up eating this more than my friend did.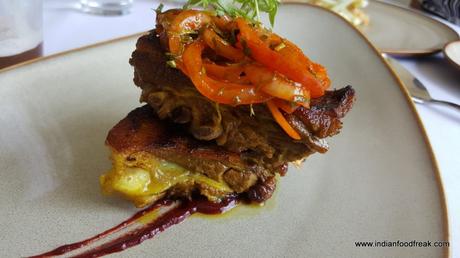 Tabak maaz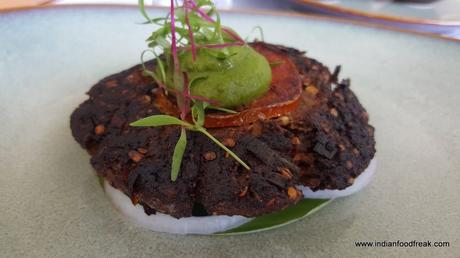 Chappali kebab
In the main course caramelised eel served with shiitake fried rice and lotus stem chips was a tasty ending to our meal.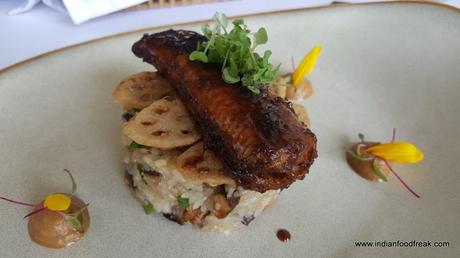 caramelised eel
It would be sinful to leave a place offering such lovely food without having dessert. Bitter chocolate pave with almond praline served with berry sorbet is my choice. We leave WD House on that sweet note with having experienced some great food and hoping the spacious restaurant gets it's liquor license soon and gets filled up to a packed house with the lovely food it has to offer.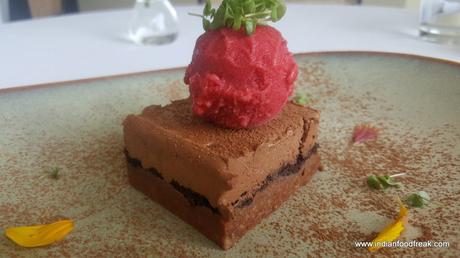 Ratings (Out of 5)
Food: 4.5 | Ambience: 3.5 | Service: 4.0 | Overall: 4.0
Meal for two: Rs 3,500/- | Wheelchair Friendly: No | Credit Card: Yes | Alcohol: Licence Awaited
Address: WD House, 80, M Block Market, Greater Kailash 2, New Delhi
Disclaimer: This review was done on an invitation from the restaurant. Due judgment and care has been applied by the author to remain objective and unbiased in the review, but readers need to consider this review keeping this fact in mind.