Synopsis:


Can two broken people put each other back together again?


Casey Stewart has spent her high school years being picked on
and never being enough for her parents. Starting college in Seattle is the
opportunity she has been waiting for to shed her old image and create a new
one. Casey is on the path to destruction. In a year, she has gone from the
loner to the wild child. Can she be saved before she destroys herself?
Alec "Gunner" Foster had a tough childhood. When
his aunt and uncle step in and move him and his mom to Vegas, Gunner is finally
able to be a kid again. Growing up with the VP of the Wayward Saints MC in Las
Vegas, Gunner knew he wanted to be the some kind of man his uncle is.
Dependable. Loyal. Fierce. With retaliation on his mind, can he stay true to
himself and the first girl he's ever cared about?
Goodreads
--> https://www.goodreads.com/book/show/23704626-wayward-soul


Excerpt:


When I finally pull up to the apartment, Gunner comes straight for
my car door and opens it for me. I smile at him, then grab his hand, leading
him inside and straight to my bedroom. Once the door is closed, he pulls me
into his arms and roughly kisses me. I moan into his mouth, running my hands
down his sides, then back up to his chest. Slowly, I pull off his cut, breaking
our kiss. One thing I learned from hanging out with Anslie and her brothers is
that you never disrespect the cut. They represent them and their club. By
looking at their cuts, you learn what club they belong to and where they rank.
I fold it and set it on the chair in the corner of the room.
When I walk back over to him, I notice the look on his face. It is
a cross between awe and surprise. His eyes meet mine before pulling me back
against his body. His hands reach up into my hair, tangling his fingers around
the stands. He gives it a tug and I open my mouth for him, our tongues dancing
together. Backing me towards the bed, he lays me down. Leaning over me, he runs
his fingertips down my body, slowly inching my dress above my hips. His fingers
gently glide up my thigh until he barely touches my blue silk thong.
He sits down on the bed and pulls me up to straddle him, his
erection throbbing against my wet panties. Reaching my hands inside his shirt,
I can feel how solid he is. I unbutton his shirt and pull it down his muscular
arms. His hands grip the bottom of my dress, tugging it up and over my head.
Groaning in appreciation, his eyes take in my body. I lean down and kiss him
roughly, my hands wandering down his chest and landing on his belt. I undo it
quickly and unbutton his jeans, tugging them a bit to let him know what I want.
He rises up a little and I push them over his hips. He rubs me up and down his
length and I wiggle my hips.
He starts to chuckle, but doesn't stop me. He turns and moves us
both up the mattress. "Beauty, you got anything to play with?" I
smirk. What girl doesn't have a toy? Maybe Anslie, but I will make sure she gets
one soon!
I nod and, with a shy smile, point to the drawer on the other side
of my bed. He grins and walks over to the drawer. Watching the way his ass
flexes when he walks, I just about come undone. His back is broad and toned, and I want nothing more than to lick it. I
watch him pull out my bright pink vibrator and some lube. He also finds my mini
bullet and brings everything back to the bed with him. I look at him with one
eyebrow raised and he just smirks. Taking the mini bullet, he gets down on his
knees. Kissing up my thighs, he pulls me closer to the edge of the bed. Slowly,
he rubs the mini bullet over my panties, then pushes my panties to the side and
turns it on. He slides it into my core and I can't help the moan that comes
out. His fingers are rubbing my nub, making me wetter by the minute.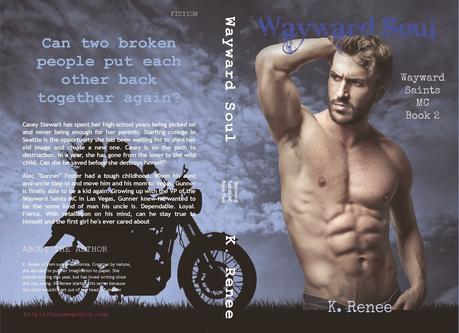 Wayward Soul

Book 2 in the Wayward Saints
MC SeriesFront Cover Photo: © olly -
Fotolia.comBack Cover Photo:  ©
adrenalinapura - Fotolia.com

Cover Design: KLa Boutique


Wayward Soul Pre-Order Links:


Amazon US

:

http://amzn.to/1955tyH




Amazon UK

:

http://amzn.to/1BYzb3z




Kobo

:

http://bit.ly/1aXcS3S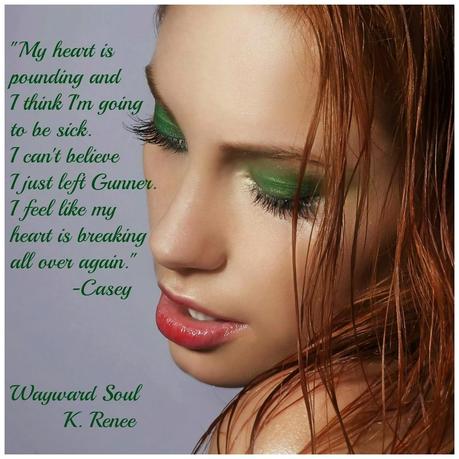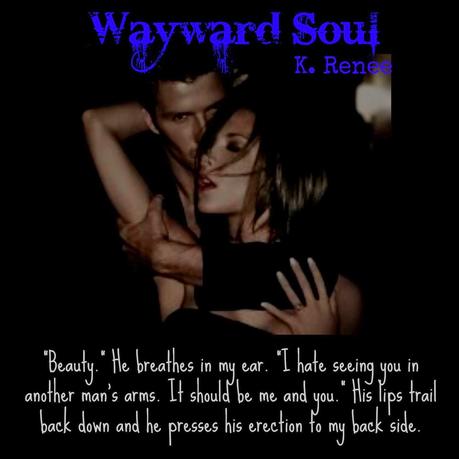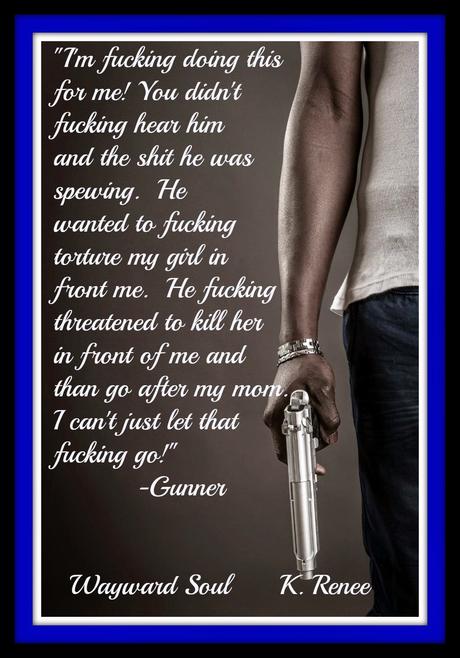 Author Bio:


K. Renee is from sunny, California. Creative by nature, she
decided to put her imagination to paper. K. Renee is an avid reader. During the
day she works in an office and at night she writes. These stories have been in
her head for years and are finally coming out on paper.
I started writing this year, but I've loved writing since i was
young. I started this series because this story wouldn't get out of my head, no
matter what I did. I'm 27 years old. I typically write in my free time or on my
lunch break at work. I work full time and I try and go to the gym every day. I
read all the time and have hundreds that I can't wait to start on still.


Social Media Links:

Website:
http://www.kreneeauthor.com

...

Amazon Author Page:
http://www.amazon.com/-/e/B00QW68UQM
Tsū: KRENEEAUTHOR
Instagram: k.renee.author
Facebook Fan Page:
https://www.facebook.com/kayreneeauthor
Twitter:
https://twitter.com/k_renee_author
Author Goodreads Page: https://www.goodreads.com/author/show/9757272.K_Renee