Last week, Pantone announced Emerald as its color of the year.  What does that mean?  Well, expect to see the color everywhere.  Just like we saw Tangerine Tango on anything and everything that stood still long enough to be colored orange this past year.
Related: Listen to my radio interview with Leatrice Eisman, executive director of the Pantone Color Institute.
Unlike Tangerine Tango, Emerald is more universally appealing.  While I love Tangerine Tango, it's a color that doesn't flatter everyone the way Emerald does. In addition, green has often been called a "colored neutral", which means that it is a color that can work like a neutral and complements just about any color in the rainbow without being too jarring.  Well, maybe except for red, unless you want to look really festive.  Emerald is a color that can be embraced in small doses or in large ones, depending on your mood.  A bright, clear, warm color with a touch of blue, emerald works well with just about any skin tone.  Looking for ways to embrace Emerald this season?  Here are some looks and ways that you can incorporate it into your wardrobe.  Don't forget, you can click on the outfits for buying information.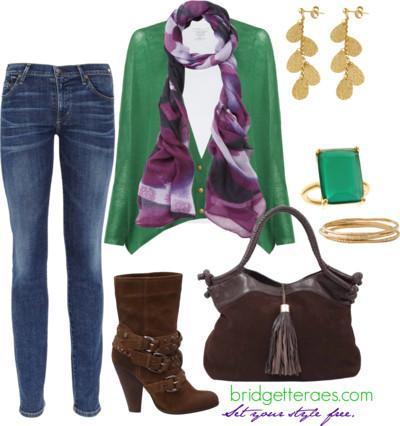 Emerald Green Cardigan by
bridgetteraes
featuring tear drop earrings
As a cardigan shade, emerald is a great color to add as it can be layered or accented with any color you may already own.  Here paired with a purple scarf (I love green and purple), you have a bright winter look on a dreary day.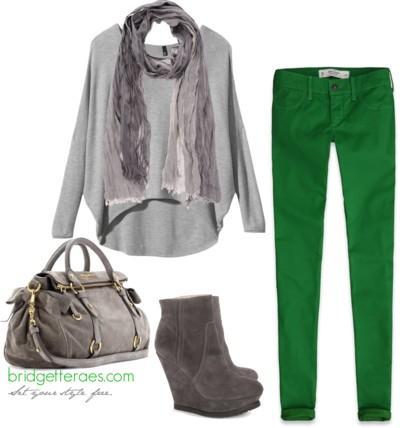 Emerald Jeans by
bridgetteraes
featuring abercrombie & fitch
Colored jeans will remain trendy and what better way to pump up a neutral colored outfit than with a pair of bright green jeans.  Instead of blue denim, consider an emerald pair instead.  Grey is a beautiful shade to wear with emerald.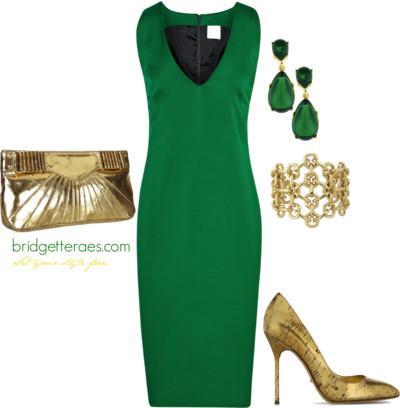 Emerald Dress by bridgetteraes featuring a plunging neckline dress
Ditch the little black dress and go for an emerald one.  Chances are you won't even have to change out the accessories.  Here, partnered with gold, the combination is rich and luxurious.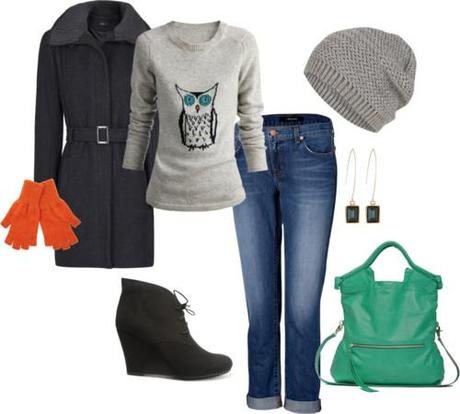 Emerald Handbag by bridgetteraes featuring wool coats
To embrace this trend without going overboard, you can incorporate it in small doses, like here with a just a handbag.  Green as a handbag shade is incredibly versatile.  It easily falls in line with an existing outfit while adding some fresh punch.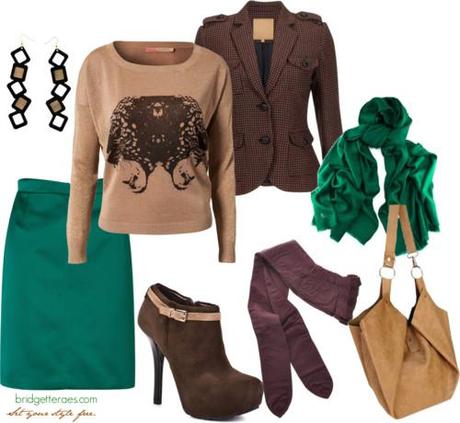 Emerald Skirt by bridgetteraes featuring a pleated skirt
Admittedly, this outfit may be a bit of a stretch for some.  However, the point of it was to show that you can easily work in emerald skirt in place of a neutral skirt you may already be wearing.  The skirt in this color adds a mild off-beat look to the outfit while not missing a step.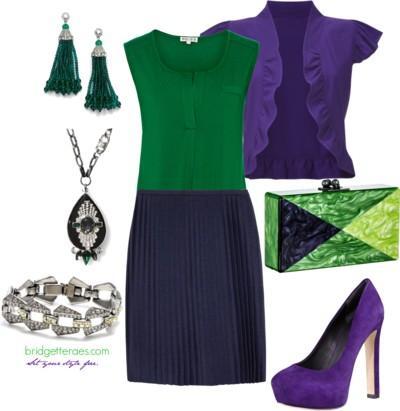 Emerald Blouse by bridgetteraes featuring swarovski crystal bracelets
Another color combination I love is navy and emerald.  With color-blocking being as hot as it is right now, emerald is a great shade to work into a color-blocked combination.
However you choose to wear emerald this season, the good news is that, not only will there be plenty of it in the stores, but you can wear it a variety of different ways in as much or as little as you want.