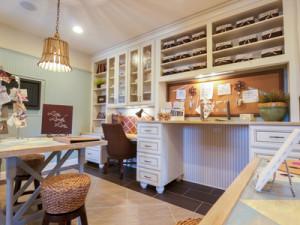 It seems like there are DIY solutions for almost everything, but with these solutions come problems. No matter your craft of choice, you need craft materials, gizmos and gadgets to accomplish these projects and they are starting to invade the home. When space is hard to come by, don't let your artistic pursuits fall by the wayside. Get creative and carve out some space for yourself where you can create.
Au Naturale
Place a rectangular wooden table beneath a window outfitted with wooden blinds to keep the light out as you're working. This approach gives your space an all-natural, earthy feel. Add a few sprigs of flowers in a vase and some craft materials that double as decorations (paints in an attractive caddy; brushes, colored pencils or charcoal pencils tucked into a handmade pot; a classic sketch pad). This will make the table pretty and inviting while also discouraging anyone (including you!) from using it as a catch-all. Keep craft supplies in a few bins under the table or in a nearby shelf, cupboard or closet.
Keep a large ottoman with all your arts and craft supplies inside. When you want to get creative, take over the kitchen table, set up a card table or use the top of the ottoman. After you're done, pack everything up and put it away. Make sure everyone else knows your art supplies are off limits unless you give permission.
Clean Clothes and Cute Crafts
A spacious laundry room can be a good spot for arts and crafts that are messy or require access to water. If your laundry ends up piled on the floor, get in the habit of sorting it as it enters the room and placing it in appropriate bins to create more floor space. Set up a table with a smooth finish (perhaps a drafting table) and find some shelf space to store craft supplies you've placed in covered clear plastic containers. Decorate the area in bright, sunny colors, including fun appliques on the wall.
If your laundry room is smaller, your table may double as folding space for the family's clothing, but clear the table when the folding is done and make sure others know it must be available for your use. Doing arts and crafts in the laundry room can also help you keep up with laundry, as you can get up and toss clothes into the dryer as soon as they're finished.
Rustic Accents
Keep a rustic wooden table in a corner of the living room near a window. Use the table as accent space, with a wooden or pottery bowl filled with pine cones and a few handcrafted wooden or clay decorative items. Place a vase of cattails, pussy willows and other dried flora near the window, next to a chair that can be used both for reading or relaxing near the window but is also sized for pulling up to the table and working on your art. Keep your supplies in a small trunk nearby. This solution allows you to share art space and decorative living space without compromising either.
Get Creative
If you're really cramped for space, find some room to create anywhere you can. Use the kitchen table after supper. Set up a card table in the living room, bedroom, garage or outdoors. Keep your supplies wherever they fit. If you don't have room on a shelf or in a cupboard, use storage containers under the bed or designate a dresser drawer. The important thing is to create, and finding space in which to do it is creative in itself.
"Listen to what you are telling yourself," says artist Maureen O'Hara. "Accept who you are. Pay attention to what you have been telling yourself since you were a child, because all the seeds you need for your work are right there."
Melissa Peterson: Melissa is a freelance journalist who specializes in health, fitness and wellness articles. She teaches Spinning for fun and finally learned to swim at the age of 36.