So I've run out of my lovely Bioderma Micellar H20 Cleansing solution, and am now onto consuming something also nice in its own way that works similarly, but this is available locally, is made of mostly natural ingredients and is much more affordable.  This is Watsons Pure Beauty Perfect Cleansing Water.  There's not much to demonstrate but I've got pops of praise for this product.  It takes makeup off really quickly, cleanses my face thoroughly and gently before rinsing, and I get no allergic reaction from it.  I tried the tester of the actual Pure Beauty Cleansing Oil but couldn't stand it for some reason…I didn't like the scent combined with the greasiness, to me this cleansing water is better.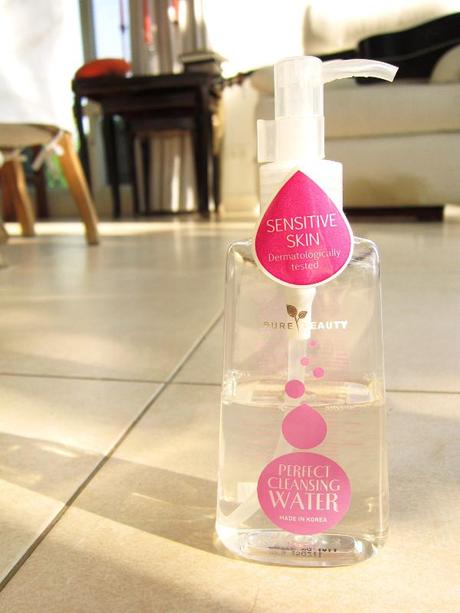 It is alcohol-free and contains extracts of common lavender, bergamot, peppermint, German chamomile, and rosemary, plus has a mild, tender scent.  I like the small detail of the pump locking clasp they included, it's very helpful for preventing a mess if the bottle is in transit.

 There's a subtle oily slip from the Xylitol (also contained in Bioderma) and Betaine which are added moisturizers.  The extracts present in the solution I think kind of help remove makeup faster and hydrate the skin but what's very amazing is the fluid really behaves like water in the bottle, just like Bioderma.  It doesn't make my face feel heavy and greasy like a cleansing oil and I just rinse once with water afterwards.  I noticed a few common ingredients on both Bioderma and this which physically confirms their similar properties.  The only BIG catch (hence the BIG price gap)  is it's not eye-safe like Bioderma because it's scented, so you can't bring it directly into your eyes to remove mascara and eyeliner from the waterline, but there's no need to fear about super-duper extreme eye irritation if you get a bit of it in accidentally because this is an alcohol-free formula.  I do use it as far as around my eyelids and underneath the eyes just short of both the upper and lower lashline.   It takes makeup bases off sooo easily even if you're using waterproof foundation topped with powder, setting spray and all that pizazz.  I think that based on the way this behaves this best explains it.  If a cleansing oil and cleansing water had a baby this would be it.  Watsons Perfect Cleansing Water is available at select Watsons' beauty halls in local department stores for the SRP of Php119.00.