Water Oak Farms CAOS Collection Soap and Body Oil – Review
I was introduced to Water Oak Farms, a family-owned handcrafted bath and body business in Louisiana through a silly misunderstanding over at Pinterest! :) Here's a little introduction on Water Oak Farms, as well as the heartwarming meaning behind the name of their latest collection, CAOS:
Water Oak Farms, Inc is a family owned business.  CAOS got its name from our four daughters, whose initials spell, you guessed it C.A.O.S!  And you can be sure that around our house there is lots of chaos.  Our daughters are a lot like our body bars.  They're naturally beautiful, soothing to our souls, all have attitude, some can be a little rough around the edges and each is unique in their own right.  In our hearts, in our home, and even on our packaging, Caos reigns supreme!
Of course, it also stands for Conditioning All Natural Olive Oil Soaps. Pam at Water Oak Farms has generously supplied the Patchouli – Lavender Body Bar and the Passionate Patchouli Sweet Almond Body Oil for my honest review here at Garden of Beauty.
Now, I'm a big fan of handmade bath and body goods, especially soap. I love the simplicity, overall pure feeling, and the obvious care that goes into each product. You get this same "I'm home" feeling with Water Oak Farms products.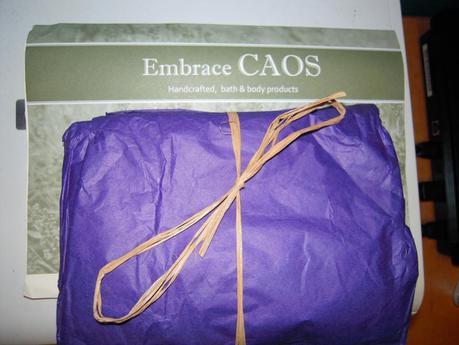 When the package arrived, I could smell the pathouli and lavender soap through the wrapping. That alone is enough to get any beauty fanatic excited! The package came carefully wrapped with brochures and a personal, handwritten note, and the scent was so relaxing that I had to try it right away.
The soap came in a generous 5.5 oz and lathered very well. I've never tried a soap made with mostly olive oil, but I was pleasantly surprised at its effectiveness. The scent was just as strong in the shower, and rinsed off clean. My skin was left smooth and lightly scented. I also used it for my hands and it didn't dry them out like other soaps do. My husband also ended up using it, so there's a bonus – it's gender-neutral and men should like it too! The spicy patchouli scent mixes incredibly well with calming lavender. Patchouli is known to be a sensual and romantic fragrance.
The body oil is lightweight and easy to apply, also with the same scent of patchouli and lavender.  With a sweet almond oil base, this can also be used as a great massage oil. Hmm.. maybe it can also be used on your face? I haven't tried yet. I applied it after using the soap and the scents linger – they obviously work well together. Almond oil absorbs quickly and leaves a soft sheen, and never greasy.
Both products only use between 3-6 ingredients each, so if it's simplicity with your handcrafted goods you want, you got with Water Oak Farms.
Ingredients (soap): extra-virgin olive oil, artesian spring water, coconut oil, sweet almond oil, essential oils of patchouli & lavender.
Ingredients: (body oil): Cold pressed sweet almond oil, patchouli essential oil, lavender essential oil.
Price: $9.00 for 5.5 oz soap, $14.50 for 8oz bottle of body oil
Additional Notes: All products are handcrafted and do not use any bad stuff! Water Oak Farms also sell room sprays and 11 other wonderful scents to try!
Buy at: Water Oak Farms
Rating:





I was provided free sample sized products by the company for this review. All reviews are 100% honest and true.