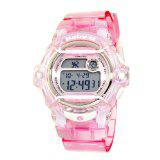 With each new season styles come and go, and fashions change. Accessories also change with the times, and they can make or break an outfit. Watches are one accessory that is constant, that can always spruce up any attire, besides for it being functional. Different watch styles may come and go, but a watch is something that is always needed. Cell phones cannot replace watches, because although they are convenient, they don't lend style the way a watch does.
The watch you wear can say a lot about you, whether for a man or a woman. Some popular watch companies are Casio, Michael Kors, Anne Klein, and others. They all cater to different preferences and choices of style.
Casio watches offer a line specifically for women called Baby G. Watches in this collection retain Casio's numerous features and durability, with a feminine style. One such watch is Casio Baby G white resin strap watch BGA110-7B. This watch has a white resin band, with silver accents. A chronograph and 3-D silver bezel complete a funky, trendy look. It also has some useful features such as water resistance up to two hundred meters, and a LED light with afterglow, among others.
Michael Kors watches are also very popular among women today. Many of the Michael Kors watches combine resin, stainless steel, and stones such as tortoise shell and mother of pearl for a clean, polished look. These watches are great, because they go well with virtually any apparel. A popular watch is Michael Kors 34 gold-tone tortoise watch MK4229. A goldtone and tortoise acrylic bracelet in wide, rectangular links is the perfect blend of fashion and understated elegance. The picture is completed with a champagne dial and goldtone accents.
In general, acrylic and stones are favorites now, as are neutral tones or bright flashy colors. Many designers are using big, chunky bracelets and faces, with chronographs. Ice watches is an up and coming new craze in watches. Based in the UK, Ice watches are for both men and women. The watches are a combination of resin and plastic, with shocking colors. Many of the women's watches are adorned with a touch of sparkle and feminine designs. They are also extremely affordable.
Croton watches are classic choices for both men and women. Based in Switzerland, they are very affordable, offering watches with a timeless class. Many Croton watches feature classic leather bands and stainless steel bracelets.
There are thousands of watches to choose from, offered by numerous designers. The first step is to decide what look you're going for, and then you can shop for the designers that appeal to you within that category. Look for rubber and plastic, and large, chunky styles for the fashionable accessory that will lend the finishing touch to any getup.
Sean Bay is a watch expert who recommends Dealsaholic as a source of designer watches at affordable prices.