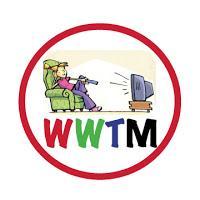 The answer to Thursday's Trivia Question: Meryl Streep won Best Actress last year for The Iron Lady (poor Mamie!) FIRST FIVES:  Dan Realson, Katie McCartney, Phyllis DiCesare, Neil Strahl, & Elke Raskob Honorable Mention: Daniel Block
Wednesday's Broadcast Top 5
Modern Family-ABC 4.7/11.9
Criminal Minds-CBS 2.9/12.2
A Charlie Brown Christmas-ABC 2.9/8.8
X Factor-FOX 2.8/8.0
Survivor-CBS 2.7/10.3
Wednesday's Broadcast Trendrr Top 5
X Factor-FOX 1,101,617
Saturday Night Live Special-NBC 97,375
Christmas in Rockefeller Center-NBC
A Charlie Brown Christmas-ABC 51,332
Supernatural-CW 47,857
Wednesday's Cable Top 5
Duck Dynasty-A&E 1.9/3.8
American Horror Story-FX 1.3/2.2
Moonshiners-Discovery 1.1/2.3
Duck Dynasty-A&E 1.0/2.2
The Big Bang Theory-TBS 1.0/2.1
Wednesday's Cable Trendrr Top 5
Duck Dynasty-A&E 289,596
American Horror Story-FX 124,657
NBA Basketball-NBA 95,686
NBA Basketball-TNT 65,885
Piers Morgan-CNN 29,313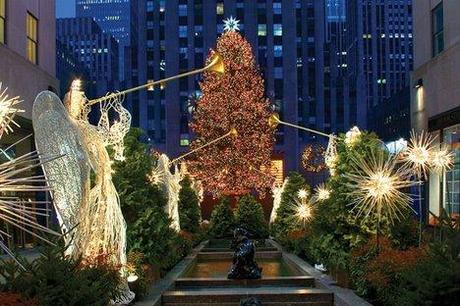 Last night was one of my favorite nights of the year, the ABC Skating Party at Rockefeller Center.  It's a magical night that I look forward to from the second I leave the ice each year until the night I return the next.  That being said, I didn't get home until midnight, so I obviously didn't watch too much TV at all.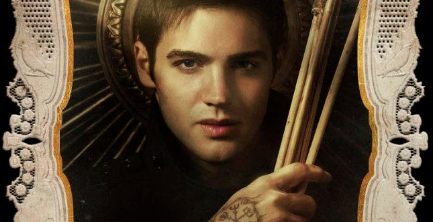 My first priority was to watch The Vampire Diaries as soon as I got in and regardless of how exhausted I was, I am SO glad I did. OMG, I can't believe how long I've waited for Damon and Elena to be together and now they are. The sex scene was well worth the wait. I may have to watch it again.   Only thing is Caroline figured out that Elena is somehow sired to Damon, but honestly, I don't even care. I could watch those two forever.  The funny thing is...I do feel really bad for Stefan.  He wants to find a cure for Elena so bad that he's going out finding people that should be murdered, turning them into Vampires and making Jeremy kill them all in hopes that he will find the Vampire cure.  Sounds a tiny bit like Dexter, but without the Vampire part right?  I kind of hope that Stefan ends up with Caroline. That would be interesting because Klaus is also into Caroline.  Ahhh the tangled web...The other awesome part of the show is Jeremy's new found badassness.  Now of course it is complicating things that as a Vampire Hunter all he wants to do is kill his own sister, but at least now, he's interesting and super cute. Not as cute as Damon but cute nonetheless. I'm still sort of confused with what this Professor Shane guy is trying to pull, but he has an interest in all of the Mystic Falls supernatural superfriends...Bonnie the witch, Tyler the hybrid, Jeremy the Vampire Hunter and of course all of the Vampires. All of these stories seem complicated but yet...easy to explain.  Very different from Once Upon a Time or Revenge, right?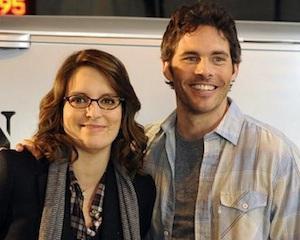 There are only a few episodes of 30 Rock left and while I knew that Liz Lemon and Chris were getting married, I didn't realize it was happening so soon.   I love a good wedding and have always always had a special thing for Princess Leia (I went as her for Halloween this year using real cinnamon buns for the hair) so the fact that the only white dress Liz had in her closet was a Princess Leia outfit and that she married the ultra handsome James Mardsen at city hall with Jack as her witness and Tony Bennett singing actually was just right.  I guess it's what you would've expected even if you hoped for something more traditional.  Best line of the night (maybe because I love Ben Affleck and am obsessed with Argo at the moment) belonged to Liz's ex, Dennis when he said "ergo... 
Ben Affleck is finally going to get that Oscar...eh maybe it wasn't the best line, but I liked it.  Anyway, congrats Liz and Chris Cross, I do like you guys together.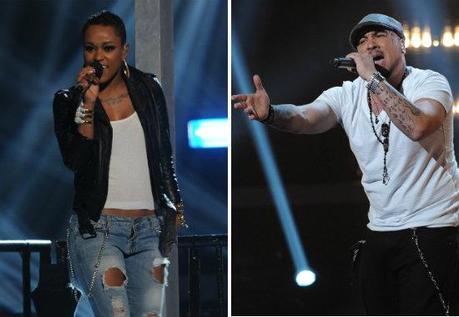 I am super bummed that Vino and Paige were voted out on X Factor...I mean Cece Frey is still in the competition?  WTF?  Glad I read about it and didn't watch the entire show to hear that news...that stinks...I loved Vino.
NEWS & INFORMATION: *Now that it IS official...Congratulations to Jeff Zucker the new President of CNN Worldwide. I told you guys, I don't report rumors, that's why I didn't include this story until it was confirmed even though there was a ton of speculation that he would get the job. *I know you guys are probably sick of Black Friday/Cyber Monday info, but I'm not, so here's a few more tidbits on it for anyone else like me that gets into this stuff:
Cyber Monday 2012 was the biggest US online spending day in history, with online sales jumping to $1.465 billion. This is a 17% increase versus a year ago.

Cyber Monday sales this year hit $1.98 billion, an increase of 17% year-over-year.

Mobile devices accounted for 22% of total online shopping on Cyber Monday this year.

 the first 26 days of the November-December 2012 holiday season has generated $16.4 billion in online spending, a 16% increase over last year

Among product categories, Digital Content & Subscriptions witnessed the best year-over-year growth rate at 28%.
Shout out to Brett Blattman for sending me this cute Parks & Rec video...I didn't get to see the show last night yet, but this is cute! Thanks Brett! http://popwatch.ew.com/2012/11/29/parks-and-rec-hollywood-squares/


Friday's Trivia Question: On 30 Rock, what does TGS stand for?

Have a great weekend!
WWTM-Kristy
http://watchingwaytoomuch.com
[email protected]
[email protected]