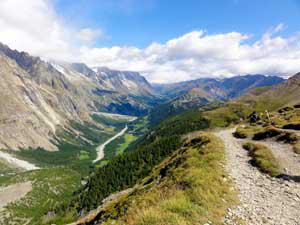 Wall of Fame photo By: Michel Eugene – UTMB 2011
Watch 6,000 Ultra-Runners Race The North Face® Ultra-Trail du Mont-Blanc® Live from Chamonix On Web-TV
Follow The North Face® UTMB® 10th Edition With Live TV Webcast, Social Media & LiveTrail
 For immediate release. Lugano, Switzerland, August 14th, 2012: The North Face®, the world's premier supplier of authentic, innovative and technically advanced outdoor apparel, equipment and footwear, invites ultra-running fans all over the world to watch the drama and excitement unfold from the first ever live webcast of The North Face® Ultra-Trail du Mont-Blanc® (UTMB®) Web-TV, 27th August- 2nd September, 2012, connected by ultratrail.tv.
With more than 6,000 runners from 73 nations, the world-renowned Ultra-Trail du Mont-Blanc will allow fans, family and friends to listen, watch and share the joy, pain and tension at the head of the pack as amateur and professional athletes alike take part in one of the world's great ultra-races.
The North Face® Ultra-Trail du Mont-Blanc® Web-TV first images, sounds and emotions in both French and English will begin with the live start of the Petite Trotte à Léon (PTL™) on Monday August 27th at 22:00. From August 28-29th, click on special feature episodes on preparation, race, recovery and technical trail-running advice provided by special guest presenters.
84 hours of non-stop live webcast coverage starts Thursday August 30th at 06:00 with the start of the TDS™, covering CCC® and UTMB® races until 20:00 Sunday September 2nd 2012. Each day from Thursday-Sunday at 09:00, 13:00 & 20:00, anchorman Gilles Chappaz will present 15-minute live news updates with special guests including Météo France's meteorologists & previous race winners.
Also broadcast live will be two event press conferences – the official pre-race conference, Thursday August 30th from 18:00 -19:30, and the post race conference, Sunday September 2nd 11:30 -12:30, featuring the winners from each race.
Social media users can also follow their favorite athletes via the LiveTrail APP. Runners can share their race in real time with their family, friends and communities via posts on their Facebook© and Twitter© pages. Each runner, tracked by a chip, provides data such as location, ranking and timing each time they go through a checkpoint. LiveTrail APP, a widget that connects the live tracking with the runner's social media profiles, automatically posts their location details on their Facebook© and Twitter© pages. Connect to LiveTrail APP directly from personal runner's page on the race website or on http://utmb.thenorthfacejournal.com.
Reporting in real-time from Chamonix, starting with the children's race Mini-UTMB® Thursday August 30th from 15:00 -18:00, throughout the whole weekend, race highlights and behind-the-scene stories will be posted on The North Face® Facebook© page at regular intervals. From the start to the finish line, live updates will be posted from the course via Twitter©. On The North Face® blog, http://utmb.thenorthfacejournal.com, text, video posts & photos will be posted daily
And, if you have been one of the 41,686 runners in the last nine editions of the UTMB®, or a volunteer, support crew or a fan, and like to share their photos to celebrate the 10th edition, The North Face ®UTMB® WALL OF FAME is now live.
Submit your photo on: http://utmb.thenorthfacejournal.com/wall/form.php
Watch; www.ultratrail.tv
Click: http://utmb.thenorthfacejournal.com
Watch The North Face Ultra-Trail du Mont-Blanc 2012 – Live from Chamonix On Web-TV Multidays.com - Multiday and Ultrarunning News