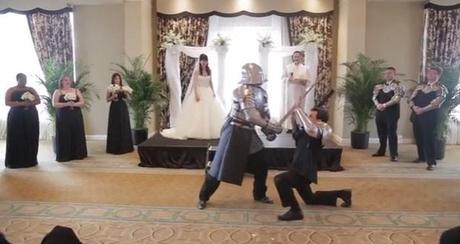 I've seen some geeky weddings and engagements in my time, but this particular wedding tops all of them because it's the geekiest wedding I've seen so far.
Adam (Artix) & Michelle (Trini) got married in the coolest way possible. Apparently, these two are deeply involved in all sorts of things including the Mavel's SHIELD, Batman, Ninjas and Knights. So, the moment when the preacher say "speak now or forever hold your peace" these folks approach the bride and groom to destroy the wedding, and then groom goes into battle to take them all out and get married to love of his life. If that isn't romantic, I don't know what is.
Read Also: Couple Gets Engaged Breaking Bad-style

According to the YouTube page, the groom Artix is a creator of a number of video games including AdventureQuest Worlds, so it's not entirely weird that you see all these things in his wedding. The guests sure seems to be freaked out, though.
Check out the video for the full action. It's long, but totally fun.


[Source: YouTube]
(All the images, trademarks, logo's shown on this post are the property of their respective owners)
Follow @nrjperera - Roshan Jerad Perera