First trailer and the poster for the latest Hitman live-action movie has been unleashed by 20th Century Fox, starring Rupert Friend, Hannah Ware, and Zachary Quinto.
Unlike the video game, which focuses around stealth gameplay, HITMAN: AGENT 47 movie appears to be all about action and destruction. The trailer also make Agent 47 look like the villain of the story. But is he really? You can find that out when the movie hits theaters on August 28.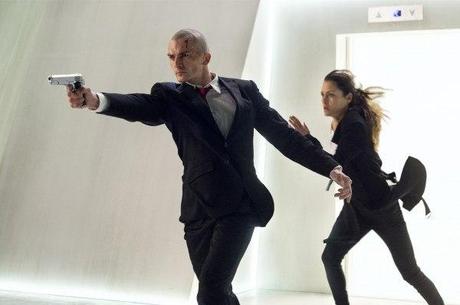 Official Synopsis -:
HITMAN: AGENT 47 centers on an elite assassin who was genetically engineered from conception to be the perfect killing machine, and is known only by the last two digits on the barcode tattooed on the back of his neck. He is the culmination of decades of research ­ and forty-six earlier Agent clones — endowing him with unprecedented strength, speed, stamina and intelligence. His latest target is a mega-corporation that plans to unlock the secret of Agent 47's past to create an army of killers whose powers surpass even his own. Teaming up with a young woman who may hold the secret to overcoming their powerful and clandestine enemies, 47 confronts stunning revelations about his own origins and squares off in an epic battle with his deadliest foe.
For the HD version, check out the trailer on iTunes.
Read Also: First Concept Art from the Upcoming Next-Gen 'Hitman' Game
Agent 47 is not a big fan of social media either. Check out what he does to fans who try to make videos about the new Hitman trailer. Never talk about the Agent 47.
[Via: YouTube ]
(All images, trademarks shown on this post are the property of their respective owners)
Follow @nrjperera – Roshan Jerad Perera