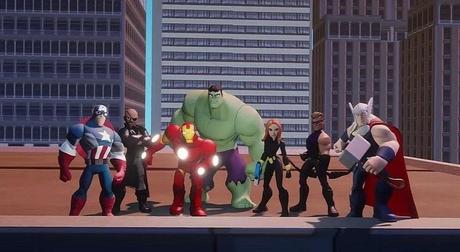 We've seen the trailers, but now it's time to get up close and personal with the action in Disney Infinity 2.0. Andy from Family Gamer TV has been in Los Angeles to take a look at the game, and now you can watch his video where get gets to dive into the very first level of The Avengers Play Set. The Avengers' tower is being invaded by Frost Giants, so it's up to our favorite super hero team to take them down.
In the video you get to see lots of action as all the Avengers fight off bad guys. You can see how each character has a mix of ranged and close attacks, like Iron Man being able to punch or use his repulsor lasers, or Hulk smashing up close or leaping across the room to hit a ranged enemy. Some are more skilled than others though, with Hawkeye being a really good ranged character with his bow and arrow but less good up-close. This means playing two-player co-op is great, because one player can be ranged with Hawkeye whilst the other beats down the crowds with a brawler like Thor.
New for Disney Infinity 2.0 is cross-over characters. Like in the comics, heroes will turn up in adventures that are not their own, like Nova coming to help the Avengers. You can't put a cross-over character in right away though; you need to collect all the character's token in the Play Set first. When you've collected all the tokens, that character can then be played in the Play Set.
If you loved this video, follow us on Twitter for loads more amazing stories and gameplay footage, and subscribe to Family Gamer TV on YouTube.