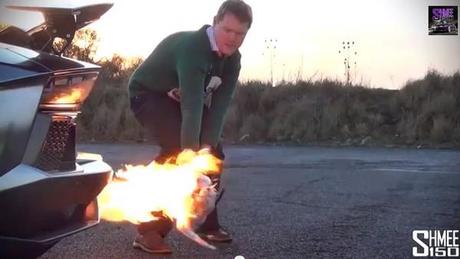 Owners of Lamborghini Aventador cars doesn't have to worry about getting an oven or a microwave for their homes anymore, because as it turns out the Italian supercar is not only a mean racing machine but it's also useful in the kitchen as well. YouTuber Shmee is a huge car enthusiast. Just recently he discovered a great way to quickly cook a turkey with the fire-breathing exhaust pipe of a Lamborghini Aventador.
Read Also: Have A Laugh: 77 Hilarious Vine Videos Packed Into One Video

So, how does he do it? Well, it's not as easy as it seems. Here's what Shmee says on the video description - "The best source of flames and heat I know has to be the Aventador LP760 from Oakley Design, fitted with a full titanium exhaust system and ready to spit fire! I gave them a call, and headed on round to see their new car; wrapped in black chrome, and refitted with a full orange alcantara interior, not mentioning the 60hp power increase and carbon additions including rear spoiler. It goes without saying that some good heat and flames meant for a cooked turkey, and ready for Christmas lunch!"
Check out the video for full burning action.


(All the images, trademarks, logo's shown on this post are the property of their respective owners)
Follow @nrjperera - Roshan Jerad Perera