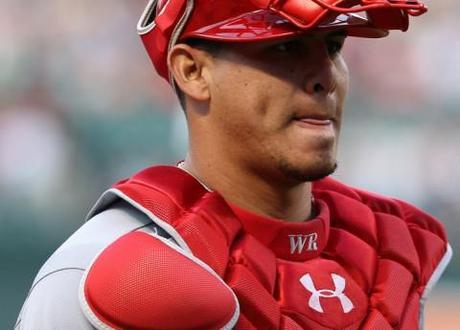 Catcher Wilson Ramos. Photo credit: Keith Allison, http://www.flickr.com/photos/keithallison/5741446333/
Wilson Ramos, a 24-year-old catcher for the Washington Nationals Major League Baseball team, was reportedly kidnapped by gunmen from his family in Venezuela, where he was playing for his winter team, the Aragua Tigers, on Wednesday night.
The news was announced by the spokeswoman for the Venezuelan team on the team's Twitter feed; the Washington Nationals have not confirmed nor denied Ramos's abduction. According to Kathe Vilera, the Tigers spokeswoman, four gunmen entered Ramos's home in Santa Ines and kidnapped him; recent reports claim that the vehicle the four gunmen used was found abandoned in the town of Bajuma, 60 miles from where Ramos was kidnapped. So far, the kidnappers have not made contact with the family. Vilera continues to the update the feed, most recently stating that there is no more news of Ramos and urging followers not to repeat rumours.
This was Ramos's rookie season with the Nationals, becoming the team's everyday catcher and batting .267 with 15 home runs – a Nationals record for a catcher – and 52 RBIs. Ramos is the product of Venezuela's national obsession with baseball; a significant number of major league players came to the US from the country governed by leftist Bolivarian coup leader, Hugo Chavez.
These things happen. "You hate to see these things and you hope that he's ok," said MLB analyst Omar Minaya, noting that "these things have happened before". According to MLB.com, he's right: Though this is the first abduction of a major league player, the relatives of several major league players have been kidnapped in the past. MLB.com reported, "A son and brother-in-law of Yorvit Torrealba, then with the Rockies, were released one day after being taken in 2009, and the mother of former pitcher Victor Zambrano was rescued after a three-day kidnapping ordeal later that year. The mother of two-time All-Star pitcher Ugueth Urbina was rescued after five months of captivity in 2005." ESPN.com also noted that relatives of baseball players have frequently been targets, reporting, "In November 2009, the 56-year-old mother of Victor Zambrano, who retired after a seven-year major league career, was rescued in a commando-style operation three days after she was kidnapped. The former pitcher's cousin, Richard Mendez Zambrano, had been kidnapped a few days earlier, and was later killed." Reports of kidnappings, unrelated to baseball players, have also been on the rise in Venezuela since Chavez came to power in 1998: According to Venezuelan police, there were 618 kidnappings reported in 2009, up significantly from the 52 in the year Chavez was elected, ESPN.com reported; that number may be even higher as a number of kidnappings go unreported.
Twitter reacts. Appropriately, given that the story first appeared on Twitter, "Wilson Ramos" has been a trending topic on the microblogging site since news of his abduction broke – Tweeters are mostly praying for Ramos's safe return and the phrase #LiberenAWilson is making a frequent appearance. Others are asking questions: Tweeted Minnesota Twins player, Danny Valencia, "#pray for Wilson Ramos, unreal what's going on in VZ. It's crazy to think teams are still willing to send players down there for winter ball."