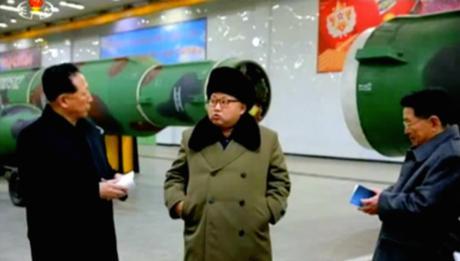 Kim Jong Un is briefed by Hong Su'ng-mu during a meeting with nuclear weapons personnel. The event most likely took place at the T'aeso'ng (Tae-sung) Machine Factory (Photo: KCTV screen grab).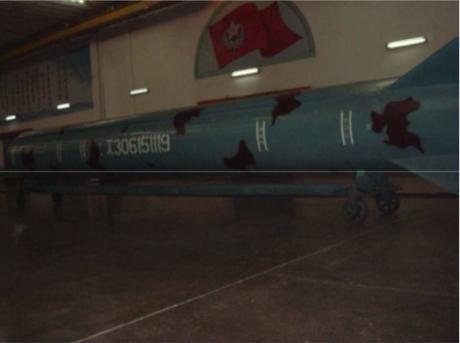 Image of a mockup of the Nodong missile at T'aeso'ng Machine Factory. The image was taken during a 2008 visit by a military delegation from Myanmar.
On March 7, Kim Jong Un visited a facility where he was briefed about the DPRK's nuclear weapons the missiles which would serve as their delivery system.  Based on photos of Jong Un's visit, it appears that this event took place at the factory showroom at T'aeso'ng Machine Factory located between Pyongyang Namp'o.  The T'aeso'ng [Thaesong] Machine Factory is a large complex and a major (and one of the oldest) manufacturer of the DPRK's ballistic missiles, generally involved in the assembling the finished product with components produced at other factories in the country.  Much of the manufacturing activity occurs in underground facilities [UGFs] located around the complex.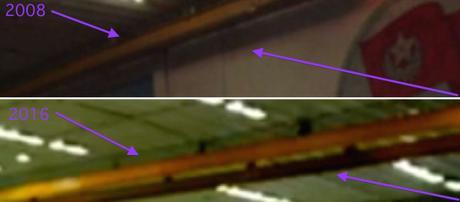 Images disseminated by state media of Jong Un's visit and briefing with the nuclear weapons personnel d reveal the same interior design and layout as a photo of the T'aeso'ng Machine Factory's showroom from a 2008 visit by a Myanmar (Burma) military delegation.  The T'aeso'ng factory showroom has undergone some renovations since it was last observed over seven years ago.  There are new ideological slogan posters (including Kim Il Sung and Kim Jong Il quotations) and decorations along the walls.  Fluorescent lights that run along the walls have been removed and overhead lighting was added.  Nevertheless the same structure and layout remains.  Yellow and green beams hang from the ceiling and run the length of the room; these are likely for cranes with which to move the heavy equipment  There is a corrugated metal roof and ceiling, along with white tiled walls (which might be moveable) and a glazed concrete floor.
While imagery of the interior of the T'aeso'ng Machine Factory's showroom is highly restricted through open source methods, there are other reasons why this Jong Un visit occurred there.  There are only three other facilities within the DPRK (two in the suburbs of Pyongyang and one in Chagang Province) in which it would be appropriate for a Suryo'ng to inspect missiles and mockups thereof, however T'aeso'ng is the only one large enough to be able to accommodate the number of things that were on display during Jong Un's visit with the nuclear weapons personnel.  There are also logistical and security reasons why this event occurred at T'aeso'ng, among them being it the most convenient locale to which they could bus and chauffeur the dozen or so nuclear weapons officials and researchers who attended Kim Jong Un's visit.  Finally, T'aeso'ng is involved in the final assembly of much of the DPRK's ballistic missile inventory; note that during his interaction with the country's nuclear weapons researchers and managers Kim Jong Un referred both to tactical nuclear weapons (which would include short-range missiles, artillery shells, depth charges) and long-range ballistic missiles, some of which are T'aso'ng's finished products.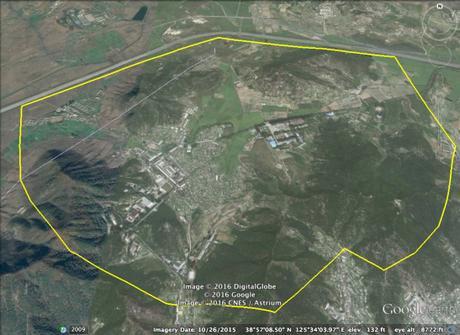 T'aeso'ng Machine Factory (Tae-sung Machine Factory; Thaesong Machine Factory) between Pyongyang and Namp'o (Photo: Google image).
Kim Jong Un visited the T'aeso'ng factory one week ago. For external purposes he was there to order a modernization of the complex and encourage its employees during the 70-Day Speed Battle before the convocation of the 7th Party Congress in May.  (Part of the ideological rationale behind this is to show the DPRK's population that the machine-building industry which largely contributes to the country's arms and munitions sector can use some of their machinery to contribute to the domestic, civilian economy)  And yet,  he was also instructing that T'aeso'ng's factory managers and chief functionaries prepare for his visit, briefing and demonstration with the leading personnel of the country's nuclear weapons.
Filed under: 70 Day Speed Battle (2016), 7th Party Congress, Central Committee, Central Military Committee, Col. Gen. Kim Rak Gyom (SRFC), Comprehensive Affairs, critical infrastructure, DPRK Cabinet, DPRK External Relations, DPRK-Myanmar (Burma), DPRK-Myanmar (Burma) Relations, Gen. Kim Kyok Sik, Gen. Pak Jae Gyong, Guard Command, Hong Sung Mu, Hong Yong Chil (KWP MBID), Joint Slogans, Kim Chong-un inspections, Kim Family, Kim Jong Un Visits, Kim Jong-un, KJI Personal Secretariat, KN-08, Korean People's Army (KPA), Korean People's Army Supreme Command, Korean Workers' Party (KWP), KPA General Logistics Department, KPA General Political Bureau, KPA General Political Department, KPA General Propaganda Department, KPA General Staff, KPA Organization Department, KPA Strategic Rocket Force Command, KPA supernumerary organizations, KPA Supreme Command, Machine Building Industry Department, Military Affairs, military economy, military security command [msc], Ministry of Atomic Energy and Industry, Ministry of State Security, Ministry of the People's Armed Forces (MPAF), National Academy of Defense Sciences, National Defense Commission (NDC), NDC Administration Department, North Korean press, Notification, nuclear weapons, Organization and Guidance Department, Party elders, Provinicial People's Committee, SCUD, Second Economic Committee, Second Economy Commission, Secretariat, short-range ballistic missiles, State Security Department