If you've been to France for more than 5 minutes, at some point, you've wondered: How is it, REALLY, that French women don't get fat? Surely they must have some kind of magical metabolism that comes from proximity to cigarettes and espresso.
If, like me, you're unlucky enough not to be born with the ability to burn calories just by breathing, France can be a dangerous place. Here are 5 reasons why, and what you can do about it: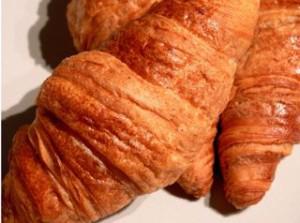 photo via S John Davey, Flickr Creative Commons License http://www.flickr.com/photos/[email protected]/
1. Baguettes, Croissants, and Pain au Chocolat
Warm French bread, straight from the oven, crunchy on the outside and soft and fluffy on the inside. Delicious, and pure carbs. Even better, have your carbs every morning in the form of a light, flaky croissant or pain au chocolat. All for less than 1€ on every street corner in Paris.
On the bright side, restaurants in France serve the bread with the meal, not before, so you don't fill up before your meal. You can, however, wipe the delicious butter sauce off your plate with a piece of bread.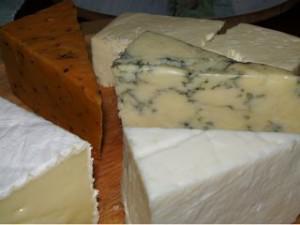 photo via Smabs Sputzer, Flickr, Creative Commons License http://www.flickr.com/photos/[email protected]/
2. French Cheese
Legend has it that Charles de Gaulle once replied to a reporter, "How do you want me to govern a country that has more than 650 kinds of cheese?" While lots of French cheeses are too strong for the unrefined foreign palate – Camembert still makes me gag – there are dozens, if not hundreds, of milder cheeses that are quite delicious. Comte, Emmental, Brie, Chavroux, not to mention cheese-based meals like fondue and raclette.
Luckily, as the American Journal of Clinical Nutrition recently reported, people who eat lots of cheese may have a reduced risk for Type 2 Diabetes, if not for high cholestorol.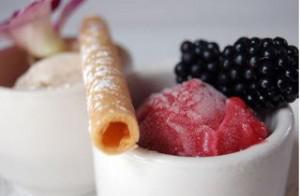 photo via Ulterior Epicure, Flickr Creative Commons License, http://www.flickr.com/photos/ulteriorepicure/
3. Bertillon Ice Cream
Made with the finest ingredients in the center of Paris, Bertillon ice cream is the best in France. With several locations on the Ile Saint-Louis, it's also dangerously close to Notre Dame and the Latin Quarter, where visitors spend a lot of time exploring.
What to do? Get the sorbet, which is made with fresh fruit and sugar and contains no cream or milk.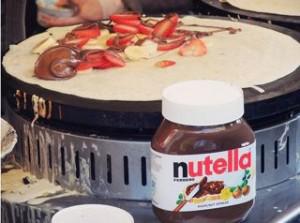 photo via Desireevdh, Flickr Creative Commons License, http://www.flickr.com/photos/desireevdh/
4. Crêpes
It seems that every other block in Paris has a crêpes vendor, and crêpes can make the perfect lunch (ham, cheese, and egg, with a choice of vegetables) or dessert (nutella, banana, and coconut is my personal favorite).
If you're by the Centre Pompidou, the Crêperie de Paris has what I deem to be the best crêpes in Paris – slightly thicker than average, and generous with the Nutella if you ask nicely.
5. Nutella
Good for breakfast, lunch, and dinner. Seriously, if you buy some, you're going to eat a lot of it.
So with all these delicious food options, what's a girl to do?
The easy answer is not to buy Nutella, or eat a pain au chocolat everyday. And Berthillon ice cream is a bit too expensive for regular consommation anyway. But bread and cheese can easily become an inexpensive daily lunch. (That's what I eat for lunch every day!)
One solution is to always buy a demi-baguette instead of a full baguette. You may not see these on display in your boulangerie, as many shops just cut regular baguettes in half rather than bake a separate batch of smaller baguettes.
The second solution is to find a market in your neighborhood, and go as often as you can. You'll be able to find fresh fruits and vegetables for a fraction of grocery store prices (depending on your area), so you can mix in slices of tomato or avocado and some lettuce into your bread-and-cheese routine.
Finally, whenever you eat at someone's home, remember that French meals often last several courses, so pace yourself and have a bit of everything.