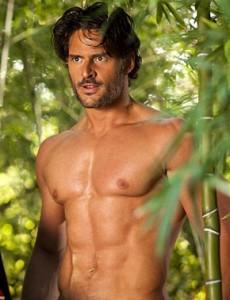 Fans of HBO's True Blood are well aware that quite often the male stars have spectacular bodies. Many will argue that Ryan Kwanten and Alexander Skarsgard must work out a lot to keep their bodies super trim for all the nudity in True Blood, but it's Joe Manganiello, who, arguably, holds the title of 'Most Buff'.
While all of the True Blood stars admit to working hard to stay in shape, Joe (who plays the werewolf, Alcide Herveaux, in True Blood) has come forward and announced he will be releasing his very own health and fitness book.
Yes, you can now look just like Joe! Or you will be able to from January 2014, which is the release date announced by Gallery Books recently.
The book has been titled: Joe Manganiello's Evolution: The Cutting-Edge Guide to Breaking Down Mental Walls and Building the Body You've Always Wanted and the press release from Gallery Books includes the following quote from Joe Manganiello:
"I wasn't born this way. I was the kid in high school who couldn't do one dip, one pull up… I was also the kid who never gave up. I've spent a huge part of my life seeking out people who could match my willingness and work ethic with planning and technique. This book is the sum total of what I've found. Through years of blood, sweat, and tears, I cut through all the of the myths surrounding every aspect of fitness and training. From diet, cardio and abs, to the cutting edge techniques and philosophy I use today, I give you, the reader, my proven steps to… EVOLUTION."
I can't wait for this book to hit the shelves!
Source: Gallery Books- Gallery Books to Publish Fitness Book by Joe Manganiello (February 28 2013)