I sometimes get this question when I tell people my heritage, and that I'm part Maltese. Yes, it is. You've probably also heard of a Maltese Dog or the Maltese cross, but it's also a nationality used to describe the people that come from the small islands of Malta in the Mediterranean (Malta, Camino and Gozo). While I have never been there, I've always been very curious about the country, especially since I have a small connection to it. I do have family there, apparently, but Malta is still such a mystery to me, and I wondered if that's the case for other people outside Europe. Turns out, it is. But Malta has been stepping up its game lately in an effort to become more than just a vague dog breed reference.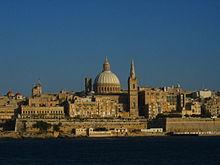 Valletta, Malta's capital city © Wikipedia
According to
TravelPulse
, the Maltese Tourism Authority is working on an educational program for agents who can then spread the word throughout the U.S. about Malta. After all, it has a lot to offer. This culturally rich region is influenced by Phoenician, Roman, Greek, Arabic and North African cultures, thanks in large part to its location, right in the middle of the Mediterranean. It's packed with history, beautiful landmarks, stunning old-world architecture and breathtaking beaches and coastlines.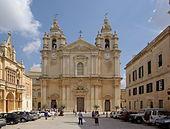 St. Paul's Cathedral, Mdina © Wikipedia
Despite it's small size, Malta boasts eleven – yes, eleven – UNESCO World Heritage Sites, including Hal Saflieni Hypogeum, Valletta (the capital city), and seven Megalithic Temples. The main island of Malta is where most of the action is, and that's where many of the major churches and attractions can be found, including St. John's Co-Cathedral with chapels dedicated to each dedicated language division of the Maltese Knights, there are nine. Mdina is at the center of the island and is known as the silent city, since no cars run through it. I imagine the towns to have a similar look and feel as many of the European ones I've visited, especially in Italy.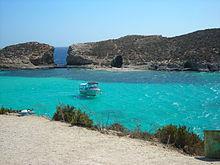 Blue Lagoon Bay, Comino © Wikipedia
Most of the temples are located on Gozo, a tiny island known for its rugged landscape and lovely coastline. This would be a great place to take a trek or walking tour to experience the natural beauty of the countryside. Camino is the smallest island, sitting at only 1.3 square miles, but people still visit to spend time at the Blue Lagoon, with crisp, clear water that's perfect for snorkeling.
I'm excited to see if Malta can boost its tourism numbers, especially from the U.S. market. In 2013, the country attracted 19,052 Americans, up 8.2% from the previous year, so that's definitely an improvement. I think the biggest things to overcome are the lack of knowledge about the islands and the low number of direct flights. Educating travel agents is huge, since they play a big role in promoting destinations to travelers looking for something off the beaten path. They can also tout Malta cultural riches, which many Americans, I think, would be very interested to hear about. If the island can work with other European destinations and airlines, they should be able to offer more flights in and out of the country. But it would also be great to do some active marketing in regions where Malta gets most of its visitors, because return business is also important, and word of mouth is extremely powerful.
Malta is still a big mystery to me, even with my few hours of research. I believe a much more in depth look at the country is in order, and so I will be adding it to my wanderlust list of destinations.