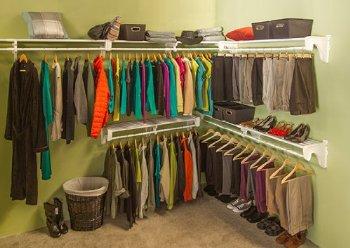 Expandable Closet Kit - Up to 60' of Hanging and Shelf Space.
Can be joined together
to make one long shelf or installed on below the other for Double Hanging, or use one as a floor mounted Shoe Rack.
**EASIER TO INSTALL-No Measuring**
**NO CUTTING-Less Tools, Mistakes & Accidents**
**EXPAND & JOIN TOGETHER-Limitless Possibilities**
**STRONGER-High Strength Steel Tubes**
**FEWER SMALL PIECES**
**LESS LABOR TO INSTALL**
**HIGH END DESIGN**
**MADE IN THE USA**
*Perfect storage solution for every closet, laundry room, basement, garage or office.*
*The shelf is 12 inches deep, expands from 40-to-73", and can hold up to 200 lbs without hitting a stud.*
*You mount the center bracket, expand the unit, hang it up and fasten to end or back wall.
All installation hardware and brackets are included.*
30% DISCOUNT off Individual Closet Rod and Shelf- Up to 30' of Hanging Space & 30' of Shelf Space
·Expandable - each shelf expands 40-to-73" (no cutting or measuring)
·Easy 1-2-3 installation - simply install center bracket, mount, secure
·Lifetime Guarantee - Reliability & Performance - steel construction holding up to 200 lbs, coated steel rods will not rust or mildew
·The Best Closet Organzier - MADE IN THE USA