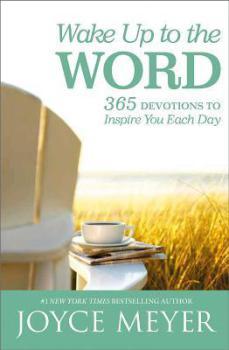 Wake Up to the Word by Joyce Meyer
Also by this author: Good Health, Good Life, The Mind Connection, Seize the Day: Living on Purpose and Making Every Day Count
Published by FaithWords on October 11th 2016
Genres: Christian Life, Inspirational, Religion, Spiritual Growth
Pages: 384
Format: Hardcover
Goodreads


365-day devotional by #1 New York Times bestselling author Joyce Meyer offers powerful words as catalysts for developing life-changing closeness with God.In her uplifting new devotional Joyce Meyer provides you with powerful words–one for every day of the year. Each day's devotion offers a word to focus upon as a catalyst for positive change in your life. These words, along with relevant scripture and practical advice from Joyce, will help you achieve greater closeness with God, which unlocks the great things He has in store for your life.

With daily guided encouragement and prayer, as well as Joyce's structured plan for spending time God, you'll be able to tap into His strength to help you overcome life's obstacles and achieve your best. And the words in this devotional will help put your in the frame of mind to receive that power each day.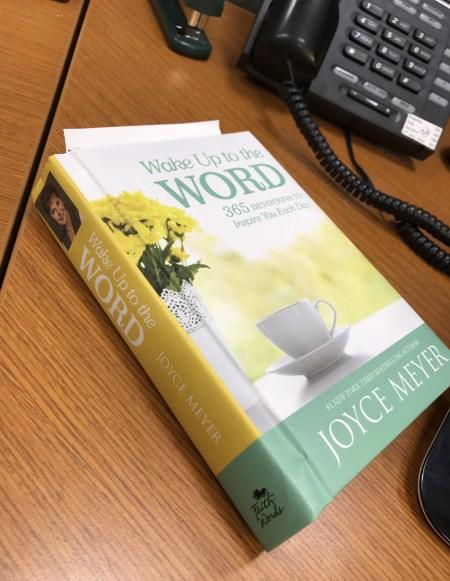 Every now and again I like to change up my morning routine, whether it's how I do my Bible reading or my meditation time, or even my daily devotional.  That's why I was interested in learning more about Joyce Meyer's book, Wake Up to the Word – it was time to change up my morning devotional.
This daily devotional includes:
♦  Powerful words to focus on each day
♦  Scriptures and practical advice from Joyce for each word
♦  Encouragement to read and pray everyday
I have always loved Joyce Meyer's devotional books and I've owned – and gifted – more than a few to my friends and family over the years. This particular devotional one is designed to read early in the morning so that you can take the message with you and apply it throughout your day.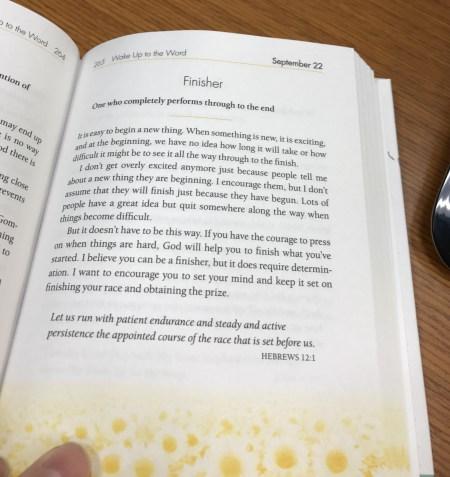 Each day of the devotion focuses on one word. You learn its meaning – perhaps in a new way. Then you're given an illustration of the word that will connect it to the Bible. This allows you to take it with you and meditate on it, evaluating your own thoughts and opinions on it. Then, to finish it off, each word has a relevant Scripture to also reflect upon throughout the day. Joyce's practical advice will help readers develop a greater closeness with God and ultimately allow us to receive the great things God has in store for our lives. She provides daily guided encouragement and prayer while helping us enter into a more structured plan for spending time with God (if we haven't already developed one). This time with God allows us to ask and pray for, and receive His strength to overcome life's obstacles.
Of course, I just happened to open the book as I was preparing to start reading it, and it fell open at September 22.  There I found one of my favorite verses, Hebrews 12:1 combined with the word "FInisher".  How awesome is that? Well, I sure know there are no coincidences in life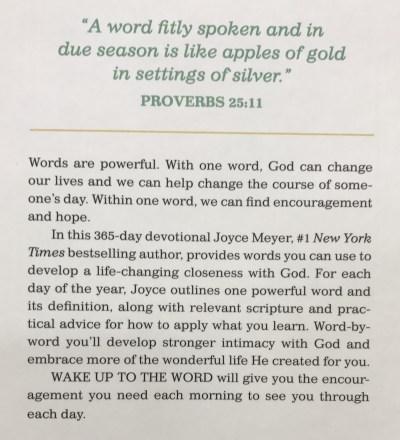 I received a complimentary copy of this book from Faith Words, a division of Hachette Book Group in exchange for my honest review.
~ ~ ~ ~ ~ ~ ~ ~ ~ ~ ~ ~ ~ ~ ~ ~ ~ ~

It would be great if you would stay connected with me!! You can follow me on Twitter @DebiL1611, like me on Facebook at 2014 and Beyond, circle me on Google+, follow me on Tumblr, Instagram and Bloglovin', subscribe on YouTube, or connect with me on LinkedIn and Pinterest.

Please make sure to visit my homepage and subscribe to my blog for more great posts on running, fitness and lifestyle topics as well as food, product, music and book reviews, and more!