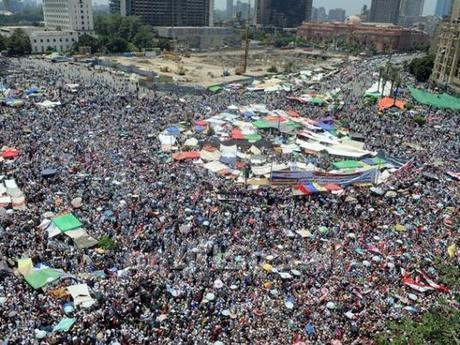 Photo Credit. Ahmed Al Masry. Thousands of protesters gather in Tahrir Square to participate in Friday of "Rejecting Coup d'etat", Cairo, 22 June 2012, against Constitutional Declaration supplement issued by SCAF.
Dear readers
For those of you in Egypt, I know nothing that you do not know. Everyone is wondering who the presidential victor will be, Morsy or Shafiq?
Breaking News: SCAF and MB may be in negotiations
   (11:41 p.m., Friday, Cairo time)
I was at a conference on defense spending and its distortions of various world economies today. It was held at the AUC in Moataz Al Alfi hall. The entire day, we kept checking in with each other, "have you heard anything?"
I asked my boss, whom I think is very thoughtful in these matters. I said to her, "does it really matter if
Egypt
elects a president, given that Parliament has been dismissed?" She said that indeed, it matters deeply. People need to have a sense that the process will be carried through. Also, if Parliament is dismissed, the presidency would arguably be the democratic bulwark in the country.
I went to Maadi yesterday to see my good friend from the UNDP who is monitoring the elections.   She focused on the fact that Egypt is in a learning process regarding democracy. The highway from Downtown to New Cairo is completely plastered with giant billboards for both the Presidential candidates, right next to each other in many cases. This picture gives you a sense.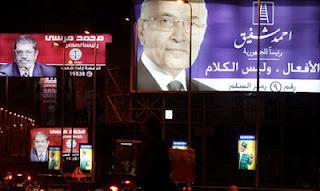 Photo credit Reuters. Morsy signs are in Red, Shafiq signs are blue.
If you would like a good background piece to catch up on the situation check out the Carnegie Endowment for International Piece.
The Egyptian Political System in Dissaray
by Nathan J. Brown. 
People are worried that violence could break out if one side or the other disputes the results.
I love this photo published in the Egyptian Independent today. It shows a former pasha, with protesters sitting on his statue, Morsy posters plastered everywhere. There is the spire of a mosque on the left hand side, and a glimpse of the heart of high class Cairo, the Semiramis Intercontinental, directly opposite the US Embassy on the right hand side of the photo.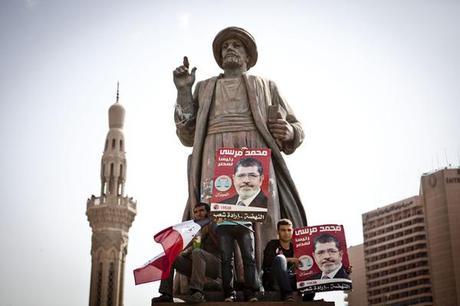 Photo Credit Virginie Nguyen, Egypt Independent.
For non-Egyptian readers, some selections from today's press.
Morsy Urges Fast Election Results
Shafiq Claims Victory in Egyptian Presidential Runoff
Egyptian Media warns of Massacre of the Century
Election's Political Context Flawed, Say Monitors. 
Mursi, Shafiq campaigns both claim victory in Egyptian presidential race
Hoping for the best, most democratic outcome. ~WMB