New to little Indiana? Subscribe for free to my RSS feed. Thanks for stopping by!
Wabash, Indiana is a fun, fun, FUN Indiana town. Our latest discovery? The Wabash County Historical Museum! Quit making faces–it's better than what you're thinking and bigger, too!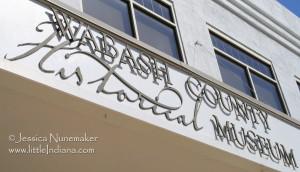 Wabash County Historical Museum in Wabash, Indiana
So, okay, I love history. There. I said it. Now, with that out of the way, let me tell you why even non-history loving folks will enjoy the Wabash County Historical Museum.
For starters, it's not so much looking at the same sort of display multiplied by the hundreds. Instead, there are many interactive features and unusual displays–less glass booths and loads more creativity.
You can get up close and personal to many of the items here. For example, there's a rope you can pull to hear a train whistle, a switch to flip to light up the Wabash County Courthouse, since Wabash was the first electrically lighted city IN THE WORLD, and pick out a Wabash-related CD to play on the jukebox!
Well, I could go on and on about what an awesome museum this was (and I probably will in a post or two to come). The rotating monthly displays on the upper level make it even better! Instead, for now, I'll let you check out my groovy video. Images to come (or this wouldn't be little Indiana!).
Watch Wabash County Historical Museum in Wabash, Indiana on YouTube or below. See more Wabash, Indiana images and other pictures of Indiana towns on my Flickr photostream.
Wabash County Historical Museum
36 East Market Street
Wabash, Indiana 46992
260.563.9070

View Larger Map
Special thank you to Whitney Myers and the Wabash County Convention and Visitors Bureau for the free passes! It was very appreciated.
little Indiana: Where to Stay, Play, and Eat in Small Towns in Indiana. Discovering Indiana's best small towns! Now get little Indiana on your Kindle.
New! Offering affordable online advertising for your small Indiana business! little Indiana Businesses is the online presence that you've been looking for.