The innermost layers of Tutankhamun's mommy wrappings contained his personal possessions. This necklace was suspended from his neck in the eleventh or twelfth layer, close to the mummy, and therefore very probably it was a piece that he had worn during his lifetime. The pendant consist of a representation of the vulture-goddess of Upper Egypt, Nekhbet, with the outer ends of the wings folded downwards resembling a cloak.
It is made of solid gold encrusted on the obverse with blue glass, apart from the lesser coverts of the wings, which are encrusted with red glass edged with green, and the tips of the tail feathers, which are also encrusted with red glass.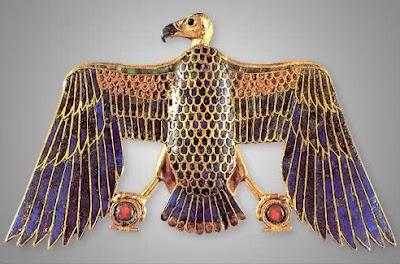 In its talons it holds the hieroglyphic shen sign, inlaid with carnelian and blue glass. The gold head, turned sideways, and the neck are delicately rendered in a most realistic manner, the effect being heightened by the wrinkled occiput, the obsidian eyes, and the lapis lazuli beak. On the chased reverse a miniature necklace and pendant are modeled in high relief.
The pendant is composed of the king's cartouche surmounted by the sun's disk and ostrich plumes, flanked by two uraei. Fastenings for the suspension chains are attached to the upper edges of the wings.