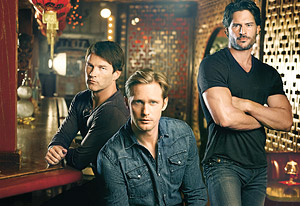 Glamour Magazine in the UK is conducting their yearly poll as to who the sexiest man is for 2012.  Last year's winner was Robert Pattinson who plays vampire Edward Cullen in the 'Twilight' series.  This year three True Blood men have made the first round so be sure to log on today to vote for your favorite!
If Alexander Skarsgard (Eric Northman) is your number one choice  click here to vote for him.
If you prefer dark haired vampired click here to vote for Stephen Moyer (Bill Compton).
And finally if your tastes run to the tall werewolf side, click here to vote for Joe Manganiello (Alcide Herveaux).
The True Blood boys have some stiff competition from the likes of Bradley Cooper, Zac Efron and of course last year's winner so be sure to vote for your favorites!
Source:  Glamour Magazine UK – Hot & Sexy Men 2012
Image Credit: TV Guide