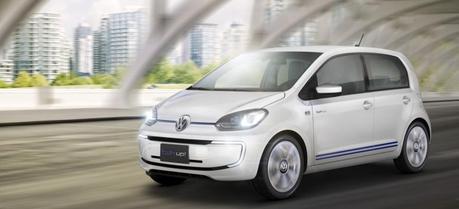 Volkswagen twin up! (Credit: Volkswagen Group)
Volkswagen will present its twin up! plug-in hybrid concept car at the Tokyo Motor Show. The car will have a combined fuel economy of 1.1 liter per 100 km (256.8 mpg).
The twin up! plug-in hybrid is to be displayed at Asia's most important motor show in Tokyo. The four-seater shares parts of the drive system—diesel engine, electric motor and dual-clutch gearbox (DSG)—with world's most economical car, the XL1.
The drive unit is located in the front of the twin up!, with a system power of 55 kW. It consists of a 0.8 liter TDI (35 kW), an electric motor (35 kW), a 7-speed DSG and the power electronics. The "tank systems" are located in the back, underneath the rear bench seat and the luggage compartment: a lithium-ion battery (energy capacity: 8.6 kWh) as well as a 12 V battery for the vehicle's electrical system and a 33 liter (8.72 gallon) capacity fuel tank. This gives the concept car an NEDC combined fuel consumption of 1.1 l/100 km (256.8 mpg)—with a corresponding CO2 emission of 27 g/km. In zero emission operation the twin up! plug-in hybrid can cover a range of 50 km (31 mi) and is anything but a slouch: the twin up! accelerates up to 60 km/h in just 8.8 seconds and has an all-electric top speed of 125 km/h (77.7 mph). The components of the plug-in drive system give the concept car a top speed in hybrid operation of 140 km/h (87 mph) and at the same time provide a high torque for a small car, of 215 N·m. The driver alone decides when and where to drive the twin up! plug-in hybrid in all-electric mode. This is done by simply pressing the e-mode button.
Back in July, we reported that the e-up! vehicle will be he first all-electric vehicle from Volkswagen to be produced in high volume.